Putin Dodges Junk at S&P Still Seen Ready to Cut Rating
Olga Tanas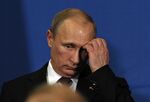 While Russia dodged being cut to junk by Standard & Poor's last week, the bond market is signaling mounting concern a downgrade is coming as economic growth sputters amid tumbling oil prices.
S&P kept the sovereign ranking at BBB-, its lowest investment grade, and maintained its negative outlook on the debt, according to an Oct. 24 statement. Even as Russia shares the same rating as South Africa and Brazil, its dollar bonds have lagged behind this year as U.S. and European Union sanctions over President Vladimir Putin's support for the Ukraine insurgency erode growth.
With oil plunging 25 percent since June amid concern the global economy is slowing, the world's biggest energy exporter is also being pinched on revenue at a time when inflation is putting pressure on the central bank to keep raising interest rates. As the ruble fell to record lows on four days last week against a dollar-euro basket, the $2 trillion economy risks slipping into its first contraction since 2009.
"The threat of a downgrade is very real," Slava Smolyaninov, chief strategist at UralSib Financial Corp. in Moscow, said by phone yesterday. "The dynamics of the economy don't impress because growth is near zero, which means the continued threat of recession. I have no doubt the rating will be cut if there is one."
Approaching 'Disaster'
A reduction into junk would be "close to a disaster" for Russia, forcing a "wave of selloffs" in bonds and stocks by funds who can only hold investment-grade assets, Luis Saenz, the head of equity sales and trading at BCS Financial Group in London, said in an e-mail Oct. 23, before S&P's announcement.
Russian dollar bonds returned 1.3 percent this year, compared with 9 percent for Brazilian notes and more than 10 percent for South African securities, according to the Bloomberg USD Emerging Market Sovereign Bond Index, which is up 9.8 percent.
S&P said that Russia's ratings are constrained by "structural weaknesses" in its economy, such as a "strong dependence on hydrocarbons and other commodities."
"We could downgrade Russia over the next 18 months if its external and fiscal buffers deteriorate at a faster pace than we currently expect -- for example due to any further tightening of sanctions as a result of the conflict in Ukraine," S&P said. "If we see Russia's monetary policy or exchange-rate flexibility weakening, we could also lower the ratings."
Financial Stability
The ruble closed at 46.9264 against the basket on Oct. 24, for a 2.4 percent weekly drop. The yield on Russia's dollar bond maturing in September 2023 was little changed last week at 5 percent, leaving the increase since a June low to 80 basis points. The currency weakened 0.8 percent against the basket to 47.2990 as of 2:24 p.m. in Moscow.
Net capital outflows reached about $85 billion in the nine months through September, compared with $61 billion in the whole of last year.
Russia can withstand challenges as its economic and financial situation remains stable, Economy Minister Alexei Ulyukayev said Oct. 14, according to the Interfax. There's no risk of Russia failing to redeem its external debt, the news agency said, citing Ulyukayev. In 2011, Putin called Russia's debt rankings an "outrage" that increased borrowing costs for both domestic companies and the government.
"We didn't expect a rating cut this year" because of Russia's growing current-account surplus, balanced budget, "big" reserves and low external debt,'' Vladimir Osakovskiy, chief economist for Russia at Bank of America Corp. in Moscow, said by phone yesterday. "Unfortunately, there are risks of a rating cut next year, and they will increase."
Reduced Stockpile
Russia's foreign-currency reserves are about $444 billion, even as the central bank spent more than $17 billion this month to slow the ruble's depreciation, according to Sberbank CIB. The country won't "mindlessly burn up" reserves to defend the ruble, Putin said on Oct. 24.
"S&P's statement suggests that Russia is in the last-chance saloon as far as its investment-grade status is concerned," Nicholas Spiro, managing director at London-based Spiro Sovereign Strategy, said by e-mail. "Most of the triggers for a downgrade to junk have already been met or are perilously close to being met."
Before it's here, it's on the Bloomberg Terminal.
LEARN MORE