U.S. Gasoline Falls to Lowest Since 2010, Lundberg Says
Jessica Summers and Dan Murtaugh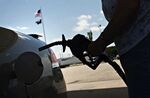 The average price of regular gasoline at U.S. pumps slid to the lowest level in almost four years, dropping 18.18 cents in the two weeks ended Oct. 24 to $3.0759 a gallon, according to Lundberg Survey Inc.
Prices are 28.69 cents lower than a year ago, according to the survey, which is based on information obtained at about 2,500 filling stations by the Camarillo, California-based company.
The average is the lowest since Dec. 17, 2010, as oil, which makes up 64 percent of the pump price, has fallen by 24 percent from this year's peak in June.
"The crude oil price crash has been passed through by refiners," Trilby Lundberg, the president of Lundberg Survey said in a telephone interview yesterday. "Retailers will probably be pressed to pass through at the pump a few more pennies of price-cutting sometime soon."
The highest price for gasoline in the lower 48 states among the markets surveyed was in San Francisco, at $3.45 a gallon, Lundberg said. The lowest price was in Memphis, Tennessee, where customers paid an average $2.73 a gallon. Regular gasoline averaged $3.33 a gallon on Long Island, New York, and $3.39 in Los Angeles.
Crude Prices
West Texas Intermediate crude, the U.S. benchmark priced in Cushing, Oklahoma, declined $4.81, or 5.6 percent, to $81.01 a barrel on the New York Mercantile Exchange in the two weeks to Oct. 24. It dipped below $80 on Oct. 16 for the first time since June 2012.
U.S. oil output was 8.95 million barrels a day the week of Oct. 10, the most since 1985. U.S. production has increased about 66 percent in the past five years as companies have used horizontal drilling and hydraulic fracturing to tap into hydrocarbon-rich layers of underground shale rock.
Gasoline stockpiles fell 1.3 million barrels, or 0.6 percent, in the seven days ended Oct. 17 to 204.4 million, EIA data show. Gasoline futures on the Nymex fell 7.58 cents, or 3.4 percent, to $2.1817 a gallon in the two weeks ended Oct. 24.
Before it's here, it's on the Bloomberg Terminal.
LEARN MORE