politics
Jeb Bush 'More Than Likely' to Run for President, Son Says
The former Florida governor resisted entreaties to run for president in 2012; will he in 2016?
By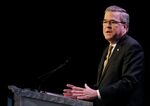 Perhaps we have not seen the last member of the Bush family in the White House. Jeb Bush is "more than likely" to run for president in 2016, according to the former Florida governor's eldest son.
"I think he's still assessing it" and the Bush family "will be behind him 100 percent if he decides to do it," George P. Bush said of his father on ABC's "This Week" program Sunday. (See the video here.)
"If you had asked me a few years back, I would have said it was less likely," said the younger Bush, who's likely to be elected November 4 as the Texas land commissioner.
Jeb Bush, the brother of one former president and the son of another, hasn't announced his political plans. 
Also on Bloomberg Politics: The Truth About Jeb Bush's Presidential Ambitions
Another potential 2016 Republican hopeful, New Jersey Governor Chris Christie, said Sunday that he'll make up his mind early next year.
"I've got 36 governors' races that I'm overseeing right now, in addition to a pretty busy day job," Christie said on "Fox News Sunday."
Christie referred to his role as chairman of the Republican Governors Association, a role that's involves campaigning for the party's candidates and raising large campaign contributions. Since taking the position last November, Christie has raised about $90 million for the RGA.
Christie campaigned Saturday in Iowa, where Republican Governor Terry Branstad is well ahead in the polls in the state that also holds the first presidential nominating contest.
"I'm not being coy about it. I'm obviously thinking about it, but I won't make any final decision until next year," Christie said.
Before it's here, it's on the Bloomberg Terminal.
LEARN MORE