Fearing North Korean Fire, Farmers Clash With Activists
Sam Kim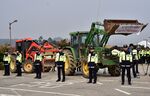 Lee Jae Wook raised the scoop of his mud-spattered tractor as he braced for a scuffle with activists trying to fly balloons carrying leaflets calling for a revolt against Kim Jong Un across the border to North Korea.
"I won't let them provoke Kim Jong Un into firing shells at my town," the 68-year-old South Korean farmer said Oct. 25 at the Imjingak tourist park, near the demilitarized zone that separates the nations. "I can't afford to lose the peace I need in this busy harvest season."
The tussles over the weekend pitched a handful of leafleting activists against border residents like Lee and hundreds of others who support a policy of engagement with North Korea. Dozens of police officers were deployed to keep them apart. One leaflet shows Saddam Hussein with a noose around his neck and the corpse of Muammar Qaddafi and urges North Koreans to "topple evil Kim Jong Un and shoot him to death!"
A series of shooting exchanges this month has escalated concerns among residents that North Korea may fire at civilian areas in South Korea should the flying of leaflets continue to be permitted. The balloons have become the biggest source of tension between the nations in recent weeks as the North threatens to shoot them down and cancel planned high-level talks if the flights continue.
"North Korea likely sees this as a chance to spur a South-South conflict," Roger Cavazos, a Nautilus Institute associate and consultant on Northeast Asia, said by e-mail. "North Korea benefits from South Korea approaching the negotiating table with a clear South-South split that North Korea can exploit to get what it likely wants."
North Korea has yet to respond to a proposal from South Korea to hold their next round of high-level talks on Oct. 30. The meeting was agreed to after North Korean Vice Marshal Hwang Pyong So and two other members of Kim's inner circle made a surprise trip to the South on Oct. 4 -- the highest-level visit since 2009.
Eggs, Curses
The South Korean government has asked activists to reconsider sending leaflets, though says it has no legal grounds to stop them. This prompted Lee and other residents to take matters into their own hands, greeting the balloon activists with curses, eggs and a barricade of a dozen tractors.
The leafleting activists were led by Choi Woo Won, a philosophy professor at Pusan National University.
"You're committing suicide if you trust those North Koreans as partners for talks," said Choi, who was wearing a dark suit covered with egg stains and waving leaflets as he stood on a raft of hydrogen tanks used to inflate balloons. "North Korea's threats are proof these leaflets are working and putting pressure on Kim."
Chocolate Pies
After the fracas, Choi's group traveled south to launch half of the planned 40,000 leaflets in the evening, North Korean defector Park Sang Hak said by phone.
Park and his organization, Fighters for Free North Korea, have for years flown balloons containing U.S. dollar bills, chocolate pies, short-wave radios, USBs, DVDs and leaflets calling on North Koreans to reject Kim's cult of personality and rise against him.
"These balloons will only come back to us in the form of bombs," An So Hee, a United Progressive Party member of Paju City Council, said at Imjingak. "It's the border residents who'll have to bear the consequences of these leaflets."
Before it's here, it's on the Bloomberg Terminal.
LEARN MORE