Bulgarian Election Winner Borissov May Not Lead New Cabinet
Elizabeth Konstantinova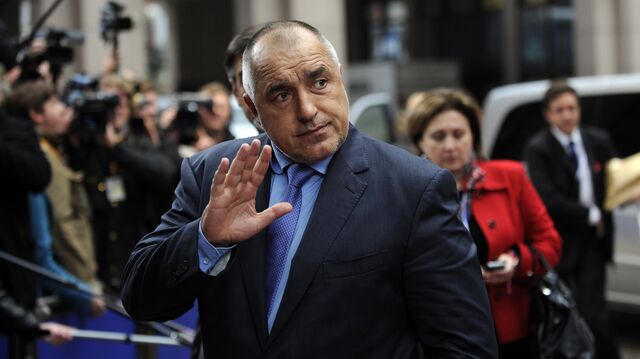 Bulgarian former Prime Minister Boyko Borissov, who is working to form a coalition government after Oct. 5 elections, said he may not lead the next cabinet unless coalition party leaders take part in it.
Borissov's Gerb party, which fell short of winning an outright majority, may propose forming a cabinet of experts with terms limited until July 1 and hold snap parliamentary elections together with a planned nationwide vote for city councils, Borissov told reporters in the capital Sofia today.
Bulgaria's parliament will hold its first session since the election tomorrow. Gerb has 84 seats in the 240-member assembly. The Socialists, the second biggest of eight parties in parliament with 39 seats, refused to join the coalition. Gerb is negotiating with the Reformers Bloc, which has 23 seats, and the Patriotic Front, with 19 seats. The two parties' leaders have refused to join the cabinet personally. The remaining parties won't join the government over policy differences.
"In this situation I'm even more concerned about the possibility of forming a stable government," Borissov said. "With what is happening in the Reformers Bloc, I'm skeptical."
The European Union's poorest country by per-capita output faces its fifth cabinet in two years amid political turmoil over a widening budget gap, a stagnant economy, institutional corruption and European Commission pressure to push ahead with reforms. The vote was called after the Socialists lost power following the seizure in June of Corporate Commercial Bank AD, the country's fourth-largest lender.
Shared Responsibility
Borissov proposed a meeting of party leaders next week to decide if there will be a coalition government with "shared political responsibility" or whether to hold elections, he said.
"The new government will deal with a crisis situation, and 'shared responsibility' means all leaders in the cabinet," Borissov said.
The Socialists agreed to support Gerb's proposal to replace the central bank's governor, Ivan Iskrov, over Corporate Commercial's failure. The previous coalition cabinet led by the Socialists resigned in July after a year in power over the loss of parliamentary support and a run on Corporate Commercial. The central bank placed the lender under supervision, freezing its assets and making funds unavailable to depositors.
The European Bank for Reconstruction and Development last month cut its 2014 forecast for Bulgaria's economic growth to 1.5 percent from 1.9 percent.
A budget revision plan envisages widening this year's deficit to 4 percent of gross domestic product from 1.8 percent, above the EU limit of 3 percent. It also foresees selling 4.5 billion lev ($2.9 billion) of debt, which will bring the debt level to 28.4 percent of output from 23 percent in August.
Before it's here, it's on the Bloomberg Terminal.
LEARN MORE