Brazilians Vote for Leader as Polls Show Nation Divided
Raymond Colitt and Juan Pablo Spinetto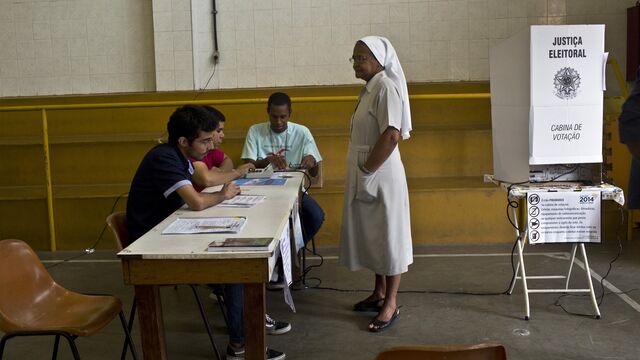 Brazilians vote today in a national election that pits President Dilma Rousseff, who says she wants to protect social gains achieved during 12 years of her Workers' Party rule, against challenger Aecio Neves, who says the incumbent has driven the economy into recession.
Voting centers, which receive almost 143 million registered voters from 8 a.m. to 5 p.m. in each of the country's three time zones, are starting to close while the Supreme Electoral Court published partial results of gubernatorial races. Some opinion polls published yesterday showed Rousseff statistically tied with Neves of the Brazilian Social Democracy Party, while others indicated either the incumbent or challenger with the lead.
Neves proposes to cut spending, slow inflation to target and attract more private investment, while keeping social welfare programs such as cash transfers to the poor and low-cost housing. While the economy in 2014 slipped into recession for the first time since 2009, Rousseff has gone on the attack, saying Neves's policies jeopardize record-low unemployment and programs that lifted 35 million people out of poverty.
"Brazil's consumer-led consumption model has run its course and needs to be replaced with one based on investment and quality public services," said Paulo Sotero, director of the Brazil Institute at the Washington-based Woodrow Wilson International Center for Scholars. "Those who benefited from that model, and they weren't few, feel that change could put at risk those advances."
'Last Moments'
Rousseff has 47 percent support for today's vote, followed by Neves with 43 percent, according to a Datafolha poll published on Folha de S.Paulo's website yesterday that has a margin of error of plus or minus two percentage points. In terms of valid votes, which exclude null and blank ballots, Rousseff has 52 percent to 48 percent for Neves.
"Anyone could take the election right now," Thiago de Aragao, partner and director of strategy at political consulting firm Arko Advice, said in a telephone interview yesterday from Brasilia. "It will be decided in the last moments."
An Ibope poll published on newspaper O Estado de S.Paulo's website yesterday shows Rousseff with 49 percent against Neves with 43 percent. It has a margin of error of plus or minus two percentage points.
Additional polls yesterday from MDA, Vox Populi and Sensus indicated a statistical tie, an advantage for Rousseff and an advantage for Neves, respectively.
Casting Votes
Rousseff, 66, voted at a public school in Porto Alegre, Rio Grande do Sul's state capital, where she lived for about 30 years before moving to Brasilia in 2002. Wearing a red blouse representing the color of her party, she posed for the cameras drinking chimarrao, a tea sipped from a gourd typical of the south of country.
Brazil "will continue changing for the people to prosper," the president told reporters before voting.
Neves, 54, voted at 10:30 a.m. in Belo Horizonte, in the southeastern state of Minas Gerais, where he was born and served as governor from 2003 to 2010. Accompanied by his wife Leticia Weber, he raised his index and middle fingers to make the "V" sign to reporters and onlookers after casting his vote.
"My first job if I win will be to unify the country," Neves said in comments posted on his Twitter account today. "I will keep the social programs and will bring back growth."
Awaiting Outcome
The election's official results will start to be released by the electoral court from 8 p.m. While Neves will stay in Belo Horizonte for the count, Rousseff returned to Brasilia, the country's capital, to await the outcome.
The polls came hours after the final debate. Neves opened the encounter by citing a report released this week in Veja magazine that says Rousseff was aware of an alleged program to funnel kickbacks from Petroleo Brasileiro SA to politicians, an allegation she rejected.
"People know the information is being manipulated because no proof has been presented," she said of the report.
The incumbent, whose party is known as PT, countered in the debate by accusing Neves's party, known as the PSDB, of failing to investigate corruption in its own ranks.
Both of the candidates have raised questions about pollster neutrality. Vox Populi was hired by Rousseff's campaign to track support for the incumbent, while Sensus produces internal surveys for the Neves campaign, as the two camps have confirmed.
Financial Markets
While Ibope hasn't conducted presidential race surveys on behalf of candidates, it has carried out polls for at least three parties at the state level, according to Chief Executive Officer Marcia Cavallari.
Datafolha doesn't conduct polls for parties, politicians or companies, according to an e-mail from its director, Mauro Paulino.
For much of the year financial markets rallied on falling support for Rousseff in opinion surveys as investors bet an opposition candidate would do more to improve Brazil's business environment, reducing government intervention in pricing policies and currency markets.
Since Sept. 2, when the president started rebounding in the polls, the Ibovespa index has lost 16 percent and the real dropped 10.3 percent against the dollar.
Ads, Debates
In television ads and debates Rousseff has questioned Neves's track record as governor of the state of Minas Gerais while warning that he would increase borrowing costs and cut back subsidized lending by state banks.
Such messages hit home with many voters of Brazil's new middle class, who for the first time can afford to drive a car, go to college or dine out, and are afraid to fall back down the social ladder.
Neves has sought to reassure lower-income voters that his plans to downsize a state costing 36 percent of gross domestic product in taxes will not undermine welfare benefits. He has pledged to increase the minimum wage, boost the income-tax exemption by at least the inflation rate and expand and write into law long-term funding of the government cash transfer program, Bolsa Familia.
Whoever takes the country's reins in January will have to contain spending, allow the currency to depreciate and improve the operating environment to boost investments from 18 percent of GDP, the lowest among BRICS countries, said Alberto Ramos, chief Latin America economist at Goldman Sachs Inc.
"The adjustment will need to happen, if not next year, it will be the following," Ramos said.
Before it's here, it's on the Bloomberg Terminal.
LEARN MORE