Telecom Italia Gives Fintech 30 Months for Argentine Deal
Daniele Lepido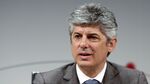 Telecom Italia SpA agreed to give Mexican financier David Martinez 30 months to complete a purchase of a stake in Telecom Argentina SA that has failed to win regulatory approval in almost a year.
Martinez's Fintech Group, which agreed in November last year to acquire Telecom Italia's 22.7 percent indirect stake in Telecom Argentina for $960 million, had already received two extensions of a deadline to close the deal, the most recent one of which expired yesterday. The value of the transaction remains unchanged, Telecom Italia said today in a statement.
The sale is a component of Chief Executive Officer Marco Patuano's strategic plan to cut Telecom Italia's $35 billion in debt and to restore the carrier's investment grade. Patuano, who took over a year ago, is seeking to focus on Telecom Italia's home market and on Brazil, where it controls the country's second-largest wireless carrier Tim Participacoes SA.
Telecom Italia said today it has received a pledge of collateral with a value of $600.6 million from Fintech. The pledge will increase Milan-based Telecom Italia's liquidity, without changing its net financial position.
The new terms aren't beneficial for Telecom Italia as the price doesn't increase even though completion is delayed, said Francesco Vatalaro, a professor of telecommunications at Tor Vergata University in Rome. The collateral pledge is "the minimum required if you concede to your buyer two and half more years to complete a deal that has been on hold for almost one year," he said.
Another Buyer?
Of the total deal price, Fintech has already paid $113.7 million. It is expected to pay a further $215.7 million by the end of October for 17 percent of Sofora Telecomunicaciones SA, the company that controls Telecom Argentina, Telecom Italia said.
The remainder, for a further 51 percent stake in Sofora, will be paid once Fintech has obtained regulatory approval. If Fintech fails to do so during the 30-month period, Telecom Italia can choose to seek another buyer for that 51 percent stake.
If Telecom Italia can't complete a sale to another buyer within a further 30 months, the agreement with Fintech will be terminated. In that case, Fintech will pay Telecom Italia $175 million in compensation and Telecom Italia gets an option to buy back Sofora shares bought by Fintech.
Before it's here, it's on the Bloomberg Terminal.
LEARN MORE