Nurse Held at N.J. Airport Criticizes Reaction to Ebola
Cheyenne Hopkins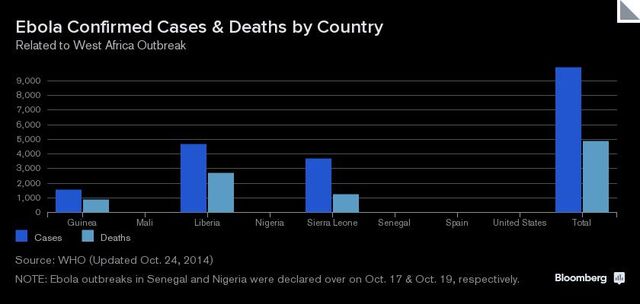 A nurse who tested negative for Ebola said officials at Newark Airport in New Jersey appeared confused and disorganized, and gave her only a granola bar to eat while she was detained for more than six hours after arriving from Sierra Leone.
In a first-person account in the Dallas Morning News, Kaci Hickox criticized the treatment she received after returning from a monthlong assignment with Doctors Without Borders in the country, one of three West African nations at the center of the current outbreak.
"No one seemed to be in charge," Hickox wrote in the account yesterday. "No one would tell me what was going on or what would happen to me."
Hickox said she was detained at the airport upon her arrival at 1 p.m. on Oct 24. At the time, her temperature was recorded at 98 degrees. Three hours later, after a confusing series of interactions with officials, her temperature was recorded at 101 degrees using a forehead scanner.
Hickox said she told officials that her skin temperature could have been elevated because her face was flushed with anxiety and asked them to test again using a more accurate oral thermometer. She was left alone for another three hours without her temperature being taken again before being transported with a police escort to a hospital.
Temperature Normal
At the hospital, after being placed in an isolation tent, an oral thermometer recorded her temperature at a normal 98.6 degrees. Her blood was tested for Ebola, and came back negative.
All the same, Hickox remains in quarantine for 21 days under rules imposed this week by New York and New Jersey officials.
"I am scared about how health-care workers will be treated at airports when they declare that they have been fighting Ebola in West Africa," Hickox wrote. "I am scared that, like me, they will arrive and see a frenzy of disorganization, fear and, most frightening, quarantine."
The U.S. Centers for Disease Control and Protection, while not commenting on Hickox's account, praised health-care workers who volunteer in West Africa. U.S. officials must "treat them with respect when they return home while continuing to take action to protect Americans so Ebola does not spread here," it said in a statement.
Illinois, New York and New Jersey have decided to quarantine anyone arriving at their airports who has had direct contact with Ebola patients. Four people have tested positive for the Ebola virus in the U.S.; two contracted the disease in Africa, the other two were health-care workers treating a patient in Texas.
High-Risk Travelers
The new policies in New Jersey, New York and Illinois go beyond guidelines from the CDC. Under the changes, quarantines for high-risk travelers from Sierra Leone, Guinea and Liberia would last 21 days. Others who travel from the region and haven't had direct patient contact will be actively monitored and quarantined only if necessary.
Health-care professionals have said that mandatory quarantines could deter caregivers from volunteering to fight the outbreak at its source in West Africa.
Hickox said with more workers needed to fight Ebola, "the U.S. must treat returning health-care workers with dignity and humanity."
Before it's here, it's on the Bloomberg Terminal.
LEARN MORE