Mississippi's Chris McDaniel Loses Court Bid
Laurel Brubaker Calkins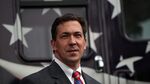 Mississippi Tea Party candidate Chris McDaniel lost his attempt to revisit a losing primary challenge against U.S. Senator Thad Cochran, leaving the incumbent in a strong position to retain his seat and boosting Republican efforts to gain control of the Senate.
McDaniel, who got the most votes in an initial three-candidate primary, lost a subsequent runoff against Cochran. He challenged the results weeks later, alleging voter fraud. A lower court judge, and yesterday the Mississippi Supreme Court in Jackson, ruled McDaniel filed his allegations too late.
The battle played out as Republicans need a net gain of six seats in the Nov. 4 election to take majority control of the chamber from Democrats. Cochran, a seven-term incumbent, won the runoff in part by reaching out to minority voters who traditionally vote Democratic. As of Oct. 2, he led his Democratic opponent, Travis Childers, by double digits.
McDaniel's lawyers told the state high court that day that the 20-day deadline for challenging election results was repealed in 1986, when state lawmakers overhauled the election code to eradicate measures that discriminated against black voters. McDaniel filed his protest 41 days after losing the June 24 runoff.
Old Code
After reviewing sections of the old and new code side-by-side, the supreme court determined that the portion of the election code at issue wasn't repealed, according to a 17-page split decision.
"We are not creating a deadline," Associate Justice Leslie D. King wrote for the majority. "The deadline already exists; it was put in place by the legislature in 1908, and it was carried forward into the present statute."
Mark Garriga, a lawyer for Cochran, said in a statement that the ruling reconfirms the voters' choice.
"As we have said from the beginning, regardless of the timeliness of the challenge, the facts continue to show this has always been a baseless challenge, and the will of the voters has now been validated by the Mississippi Supreme Court," according to the statement.
McDaniel, in an e-mailed statement yesterday, alluded to his claims of illegal party cross-over voting during the runoff.
"Republicans in Mississippi are still left wanting for justice after June's Republican primary was decided by more than 40,000 Democrats," McDaniel said in the statement. "But now it is time to turn the page and work to enact true conservative change in Mississippi and in Washington."
The case is McDaniel v. Cochran, 2014-EC-01247-SCT, Supreme Court of Mississippi (Jackson).