Iran Hangs Woman at Center of Amnesty Group Campaign
Golnar Motevalli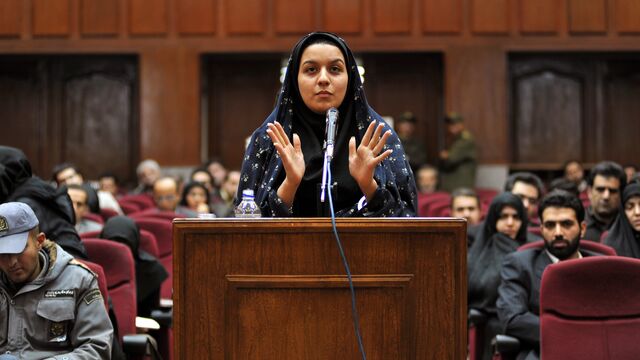 Iranian authorities executed a woman found guilty of murder despite a campaign by rights group Amnesty International to have her sentence overturned on grounds that the investigation had been "deeply flawed."
Reyhaneh Jabbari, 26, was hanged yesterday, state-run Islamic Republic News Agency reported, citing Tehran's prosecutor's office.
Jabbari was found guilty of killing a government employee in 2006. She had said that she had acted in self-defense, stabbing Morteza Abdolali Sarbandi once in the back after he tried to rape her, according to Amnesty International.
Mohammad Javad Larijani, secretary of the human rights council of Iran's judiciary, defended the legal process of Jabbari's case, according to an interview with Tasnim news agency.
Jen Psaki, a spokeswoman for the U.S. State Department, condemned the execution.
"There were serious concerns with the fairness of the trial and the circumstances surrounding this case, including reports of confessions made under severe duress," Psaki said in a statement.
The family of Abdolali Sarbandi demanded that the execution be carried out despite attempts by the prosecutor to persuade his next-of-kin to commute the sentence, according to a statement released by the judiciary and published by IRNA.
Before it's here, it's on the Bloomberg Terminal.
LEARN MORE