Hillary Clinton Heckled by DREAMer
This time, the 2016 frontrunner sounded a little more ready for the question.
By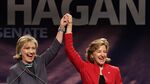 Hillary Clinton publicly faced an immigration-reform activist for the second time in as many months in North Carolina on Saturday, and gave what appeared to be a more practiced response than the one she offered during the last confrontation in Iowa.
A member of the advocacy group United We Dream reportedly started heckling Clinton during her remarks supporting Democratic Senator Kay Hagan at the Charlotte Convention Center. The crowd drowned out his remarks with applause, but Clinton briefly acknowledged him, according to reports.
In September at Senator Tom Harkin's steak fry, a DREAMer— or an undocumented immigrant brought into the country a child—asked Clinton what she would do to address the immigration issue. Her response, as CNN reported, was somewhat stilted: 
Clinton, wearing black sunglasses, responded, "Yay."

"I was wondering what you feel about Obama's delay on immigration," Reyes asked Clinton in an in an exchange caught on video by immigration reform activists.

While Clinton continued down the line of people behind metal barriers, she responded, "I think we have to keep working—can't stop ever working." ...

Cesar Vargas, a member of the DRM Coalition standing next to Reyes, pointedly followed up. "The president has broken his promise to the Latino community, and we wanted to know if you stand by the president's delay on immigration," he said.

Clinton kept moving but said, "You know, I think we have to elect more Democrats."
Clinton's response was more measured this time around, but she likely wasn't the main target. Hagan, who is in a close re-election race against Republican Thom Tillis, has been attacked by Latino groups for not doing enough to enact immigration reform. Saturday's protester was reportedly critical of Hagan.
According to reports, the protester, who carried a sign reading "Hillary, do you stand with immigrant families?", was escorted out by the police.