Egypt Vows Steps on Gaza Border After Deadly Sinai Attack
Ahmed A. Namatalla and Tamim Elyan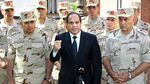 Egyptian officials moved to boost the power of military tribunals and were said to be considering deepening security zones on the border with Gaza after militants killed more than 30 soldiers in Sinai, measures that rights groups warned risk further curtailing freedoms.
Following the Oct. 24 attack, which President Abdel-Fattah El-Sisi yesterday blamed on unidentified "external forces," the government proposed expanding the powers of military tribunals to include offenses such as attacks on security institutions, destruction of public property and blocking roads. The move came on top of closing the Rafah crossing with Gaza, imposing a three-month curfew and discussions of expanding a buffer zone in the north and relocating its residents, state media reported.
The escalation, along with El-Sisi's remarks, were a clear reflection of the government's growing impatience with the security situation in Sinai -- one that has sharply deteriorated since he led the ouster of Islamist President Mohamed Mursi in July last year. The latest attack and the likely repercussions, however, have sparked worries among rights groups and others that it could serve as a pretext for curtailing freedoms they see as already eroding since the former defense minister was elected to the presidency.
The government is "attempting to turn Egypt into a very big military camp," Ahmed Emam, spokesman for the opposition Strong Egypt party, said by phone today. Officials are "moving in the direction of militarizing the state, suppressing freedoms and closing the door for all existing democratic routes."
Muslim Brotherhood
The government has blamed Mursi's Muslim Brotherhood organization for much of the violence since the Islamist's ouster. The organization, which has been classified a terrorist group by the government, has denied involvement in any incidents, says it remains committed to peaceful protests and that the unrest is a byproduct of the crackdowns that emerged after Mursi was toppled in what it describes as a coup.
El-Sisi yesterday said the bombings were an attempt to destroy state institutions. While vowing to retaliate against terrorism, he warned of more attacks to come in what he described as an "existential battle" for Egypt.
The incidents, though, had little effect on the stock market, with the benchmark EGX 30 Index retreating 0.3 percent at the close in Cairo. The index has climbed 29 percent this year, making it the world's fourth best performer, according to data compiled by Bloomberg.
North Sinai
North Sinai, a region largely neglected economically under former President Hosni Mubarak's nearly 30-year rule, has become the epicenter of the fight against extremists. The largely lawless area has seen an escalation in attacks on security forces that has also spread to other parts of the country, including Cairo.
The military had already stepped up its efforts in north Sinai amid a broader crackdown on Islamists and Mursi supporters that has left over 1,000 dead and 20,000 jailed or facing trial.
Even so, officials have complained of a steady flow of weapons from Libya, where the ouster of Muammar Qadhafi in 2011 threw open the doors of armories and destabilized the oil-rich north African nation. They have also indirectly indicated that the attackers may be entering Egypt through tunnels running to the Gaza Strip -- claims that have further soured relations between the coastal territory's Hamas rulers and Egypt. Under Mursi, Hamas had found a staunch backer while El-Sisi has been, at best, cold toward the group.
Ziad Akl, a senior researcher at Al-Ahram Center for Political and Strategic Studies in Cairo, said closing the Rafah border crossing indicates that the government is "de-prioritizing the political relationship with Hamas and elevating security considerations."
'More Radicalism'
"I expect more radicalism in the government's discourse going forward," he said in a phone interview yesterday.
While Egypt helped broker a cease-fire agreement that ended a 50-day conflict between Israel and Hamas in August, security forces have destroyed hundreds of tunnels on the border with Gaza, which the Palestinians say are used to funnel essential goods. Israel says the tunnels are also used to smuggle weapons.
Egypt declared a three-month state of emergency in parts of Sinai, including a night-time curfew. The depth security zone along the border with the Gaza Strip will range between 1.5 kilometers to 3 kilometers, Ahram Gate reported.
Past Bombings
Egyptian human rights activists have long blamed successive governments under Mubarak for fueling north Sinai's insurgency by focusing exclusively on pursuing heavy-handed police tactics while ignoring economic development in the area, one of Egypt's poorest. Mubarak was toppled in a popular uprising in 2011.
Ansar Bayt al-Maqdis, an al-Qaeda-inspired group, has claimed responsibility for recent attacks in the region, including two bombings in September that killed 17 policemen.
After a string of bombings that targeted tourist resorts such as Taba and Sharm El-Sheikh between 2004 and 2006, police rounded up hundreds of Bedouin, many without charge, according to rights activists. The government later blamed the attacks on a militant group called Al Tawhid Wal Jihad.
Before it's here, it's on the Bloomberg Terminal.
LEARN MORE