What, Moscow Is Changing Time Zones? Vacheron Constantin Has You Covered With New Watch
by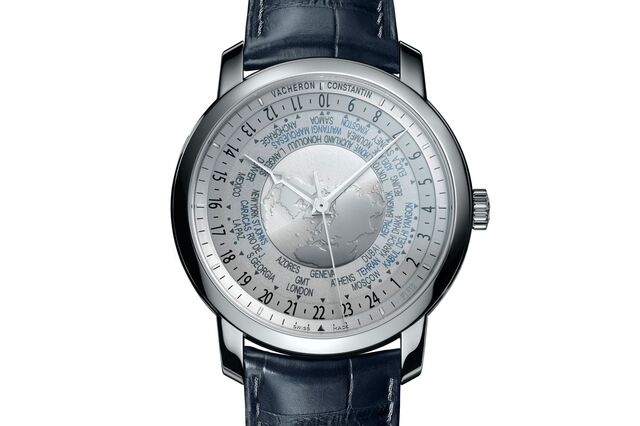 Time zones don't change all that often, but at 2 a.m. this Sunday, October 26, Moscow is moving back an hour from UTC+4 to UTC+3. This means that all of you with world time watches out there are now going to have to do that math yourself when you're checking up on the Kremlin. If subtracting one sounds like too much trouble, Vacheron Constantin has your back with the Patrimony Traditionnelle World Time Collection Excellence Platine, a world timer with the new Moscow timezone ready to go. (You could also use your current timer and look at other UTC+3 countries instead, like Kenya and Tanzania in East Africa or Saudi Arabia, Kuwait, and Qatar in the Gulf, but let's not be gauche.)
Some history: Back in 2011, Russian president Dmitry Medvedev instituted permanent daylight savings time across the country -- a first in the world. Now the Russians are changing course, opting to follow in the footsteps of Arizona and do away with daylight savings time altogether. Since all other time zones in Russia are set according to Moscow time, the one-hour change will cascade across the country.
But enough enough about Eurasian timekeeping and on to the goods.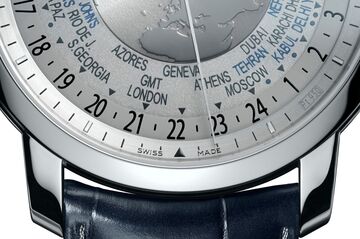 37 Times Zones
Earlier this year, Vacheron added the Day-Date and Power Reserve to the Collection Excellence Platine, and now we get this world timer too. A world timer uses a pair of discs, one containing the names of world cities and the other the 24 hours, to show the time in all the cities at once. Some only show 24 cities/zones, but this watch shows all 37 time zones, including the unusual half-hour and quarter hour time zones (which include India and parts of Australia, FYI) and of course Moscow's new jam.
As with all Collection Excellence Platine watches, platinum is the star. The 42mm case, dial with Lambert projection world map, and even the stitching on the alligator strap are all solid 950 platinum. (Yep, platinum thread.) Through the sapphire caseback you can see the caliber 2460 WT movement, which is designed and made entirely in-house by Vacheron Constantin.
The Patrimony Traditionnelle World Time Collection Excellence Platine is a limited edition of only 100 numbered pieces. It is priced at $98,500.
Before it's here, it's on the Bloomberg Terminal.
LEARN MORE