Ukraine Faces Grim Choices After Parliamentary Elections
By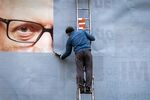 It's not something the president of Ukraine would normally do, but last week Petro Poroshenko personally ordered that central heating be turned on across the country by Oct. 24—two days before the parliamentary election. As temperature dropped below freezing, the news was certainly welcomed by all, but a handful of experts worried about the country's ability to pay its debts to Russia for the consumed gas and therefore ensure that apartments will stay heated through the winter.
The announcement might have sparked the enthusiasm of those who thought of casting their ballots for the aptly named Poroshenko Bloc in the election on Sunday. The bloc is a broad coalition that unites Ukrainians as different as the activists who kick-started antigovernment protests in Kiev a year ago and former allies of president Viktor Yanukovych (who was ousted by that protest). It was comfortably leading opinion polls on the eve of the vote: The bloc will likely secure a healthy majority in the Rada, the Ukrainian parliament.
But the mixed electoral system makes it difficult to predict the results. Half of the 450 Rada members represent political parties elected by proportional representation. Another half comes from regional single-seat constituencies, where more nonpartisan, random, and outright shady candidates are likely to win. But many of them will align with Poroshenko's bloc, says political scientist Olexy Haran: "They are conformists by nature and will follow the winner."
Ukraine's political landscape has radically changed after Yanukovych's ruling Party of Regions was virtually disbanded in the aftermath of the February revolution. Only one of two parties that emerged as a result of its decomposition has a good chance of exceeding the 5 percent threshold needed to enter parliament. But it's unlikely to gain much. Its chances are reduced because the election will not take place in Crimea and swathes of eastern Ukraine, former strongholds of the old regime now controlled by Russia or pro-Russian rebels. "But some odious personalities from the Party of Regions may enter through the trapdoor of single-seat constituencies," says Haran.
Whatever seats are not taken by Poroshenko's bloc will be divided among five populist and liberal parties. Most polls give second place to the Radical Party led by maverick politician Oleh Liashko, who shot to fame with a series of PR stunts, including the capture and on-camera humiliation of east Ukrainian rebel leaders. Liashko's viral YouTube videos would typically show the baby-faced politician, who sports an unusually deep masculine voice, shout abuse at his stripped-naked captives. Despite its anti-establishment rhetoric, Liashko's party list includes some members of the old guard, and it is being heavily promoted by a major TV channel that belongs to Serhiy Lyovochkin, a veteran political operative and Yanukovych's former chief of staff.
Other parties likely to enter parliament mix liberalism and jingoistic populism in different proportions. Many of them include popular commanders of volunteer battalions fighting against the rebels in the east and appear to be critical of President Poroshenko's attempts to reach a compromise with Moscow and its East Ukrainian proxies.
The new parliament is facing the unenviable task of prescribing unpopular economic reforms to a cash-stripped country at war that is prone to unrest and revolutionary romanticism. Vladimir Fedorin, a former editor of Forbes magazine's Ukraine edition, says Ukraine needs to cut up to a third of its budget to stay afloat. "But I am not seeing the heroes who can brave it," he adds. A more likely scenario, according to Fedorin, is that public sector spending will shrink through high inflation and devaluation of the currency. "In Ukraine's sorry circumstances, that may lead to a financial Chernobyl."
Before it's here, it's on the Bloomberg Terminal.
LEARN MORE