To Get More Doctors to Africa, Paul Allen Pledges to Fly Sick Ones Home
By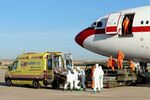 To contain the spread of the Ebola virus, organizations working in West Africa need more medical professionals to join that effort. Yet, if those doctors and nurses get sick, many of them want to be flown back home for medical treatment, but medical evacuation isn't easy or cheap—flights can cost $250,000 or more.
To tackle that problem, billionaire Paul Allen is funding the development and deployment of new containment units for medical evacuation use, "to get you back to your home country safely and quickly if you get infected," he said on Thursday in a news release. The effort is aimed at persuading more doctors to help treat the thousands of people who have contracted the disease in Liberia, Sierra Leone, and Guinea.
Allen's foundation has also set up an Ebola Medevac Fund to help cover the costs of an evacuation that a charitable organization's insurance carrier does not. Most insurers don't pay the entire $200,000 to $250,000 cost of a medical evacuation flight, says Dune Ives, senior director of Allen's Vulcan Philanthropies in Seattle.
"What I really hope is that this gets medical care professionals more interested in going to West Africa," Ives said on Thursday. Allen, the Microsoft co-founder, has a net worth of $17.1 billion, according to the Bloomberg Billionaires Index. He has pledged at least $100 million to battle the Ebola virus, quadrupling his earlier spending plans. The same day as Allen's announcement, New York City reported its first case of Ebola in a doctor who had worked in Guinea as a volunteer with Doctors Without Borders, one of the largest NGOs tackling the outbreak. The doctor was admitted to a Manhattan hospital.
Ives says the containment units, which Vulcan is calling "safety cocoons," can hold up to four people during a medical flight aboard a commercial or military cargo jet. The unit is designed to allow medical workers safe access to the patient during transport, and can be disinfected and reused. The foundation was interested in fielding designs that can be deployed by NGOs when they're addressing other infectious diseases, she says.
"We look at this as a mid-term solution," she says, noting the enormous expense of evacuating medical workers who contract Ebola, given the obvious safety concerns of flight crews and other cargo transportation staff. The estimated costs for some charter flights to evacuate sick medical workers from West Africa have run as high as $450,000, Ives says—far too much for an NGO to consider.
Commercial airline service to the area has dwindled as the disease has spread, and more nations are restricting the flow of passengers from the three nations most affected by Ebola. Over time, as more treatment facilities and resources are devoted to the region, more sick medical workers are likely to be treated in Africa. "There is an opportunity to have care in the field," Ives says.
Before it's here, it's on the Bloomberg Terminal.
LEARN MORE