The "Voting Machine Switched My Ballot" Stage of the Election is Here
Why every election comes with a panic about stolen votes.
By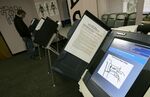 The age of electronic voting machines has inaugurated the age of the 11th-hour panic about technology stealing votes. Every cycle, when voting begins, some citizens using the machines produced by Diebold and its competitors call news desks, insisting that their ballots were rigged, in the darkness of the polling booth.