pursuits
Taylor Swift and 1989 Can Save the Record Industry
By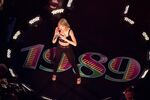 Even Taylor Swift's admirers—and they are legion—spend a lot of time second guessing the pop star. They question everything from her latest hairstyle (shorter) and her parade of alleged boyfriends (Joe Jonas to Jake Gyllenhaal) to her metamorphosis from a Nashville ingenue to a worldly top-40 butterfly. If that wasn't enough, many have tied the fate of the record industry to the release her fifth album, 1989, on Monday.
Unlike Swift, a self-described "enthusiastic optimist," the business is in a funk. None of her peers has released an album this year that has sold more than 1 million copies in its first week. Swift's previous two records—2012′s Red and 2010′s Speak Now—easily overshot that mark. The fear in the music trade is that if Swift and her independent record company, Big Machine, can't do the same with 1989, it bodes poorly for the format.
That may seem like a heavy burden to place on her petite, 24-year-old shoulders, but Swift seems up for it. In July, she wrote a piece in the Wall Street Journal in which she dismissed widespread predications that streaming services such as Spotify would kill the album once and for all. She acknowledged that record sales were headed south, then insisted that people would continue to fall head-over-heels for a select group of artists, consuming their tweets, attending their shows, and even purchasing their CDs.
The bloggers who have made light of what they see as Swift's naïvety do so at their own risk. Swift is relentlessly shilling 1989 on her Instagram feed and in television commercials for Diet Coke and Target. On Jimmy Kimmel Live Wednesday night, she performed the first single, Shake It Off, in a black bustier that she could very well have filched from Rihanna's closet. She later joined Kimmel in his studio and giggled as he read aloud some of the gushingly positive reviews of 1989.
Swift's diligence is paying off. The 1989 album has been lauded by critics, both high and low, and Billboard has predicted first week sales as high as 900,000. That's almost three times as many as Coldplay's Ghost Stories, which is currently the year's most successful release.
No matter what happens, Swift and Big Machine can count on this: 1989 will be the best-selling album of 2014, and it will redefine the metrics for a successful record in the age of Spotify and YouTube. Whatever the number of Swift hits, it will the one for her competitors to beat. That is, until Swift releases her next one. As long as Swift chooses to record them, albums have a future.
(
Correct the name of Swift's single and the spelling of Rihanna in the fourth paragraph.
)
Before it's here, it's on the Bloomberg Terminal.
LEARN MORE