Stronger Markets Can Be Heard in Unlikely Places: Opening Line
Laurence Arnold and Danielle Burger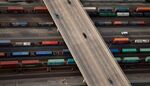 Happy Friday. Disregarding the arrival of Ebola in New York, which we will because we're still unconvinced that this disease is making anything more than cameos in the U.S., there was a solid feel to the elements of this week's move in stocks and bonds.
Yesterday, initial jobless claims, leading economic indicators, earnings from big industrial companies like Caterpillar and 3M, and manufacturing bouncing back in Europe and China all contributed to the notion, as we see it, that Ebola is not going to have much effect on anything that these things measure.
But those are the obvious things. Important, yes, but lacking a certain art.
Here's some color: demand for railroad freight cars. It's soaring.
Using data from the Railway Supply Institute, our stats guru, Alex Tanzi, reports that orders more than tripled in the third quarter to 42,900 from 12,753 a year ago. Deliveries rose 45.7 percent and backlogs increased 68.5 percent.
Admittedly, from the looks of these charts, it's a volatile market, but what they show beats the alternative, right? There's a reason for this demand.
The Fed will be ending its asset purchases next week, assuming all else being equal, and then the anticipation builds for the first rate increase. Who knows when that will be, right? They say mid-2015, but they could come up with another reason to punt. At least one of the marks the Fed is trying to hit is goosing inflation and taking slack out of the labor market.
"Progress on labor slack continues at its gradual pace, though the outlook for wage growth is very much in question," Josh Wright reported yesterday over at Bloomberg Economics.
Got ya covered, Josh.
The brains over at SouthBay Research noticed something interesting in the earnings release from Brinker International earlier this week. The company owns the casual dining chains Maggiano's and Chili's, accounting for about 1,700 restaurants and 55,000 employees. South Bay Research found that same-store sales rose 1.9 percent, while wages rose 3.9 percent. That's wage inflation.
It's just a trickle, but enough to kick off the weekend.
***
New-home sales is the day's only U.S. economic indicator.
U.S. earnings reports will come from State Street, Colgate-Palmolive, Ford, Procter & Gamble, Moody's, UPS and Bristol-Myers.
Chiquita Brands is scheduled to hold a shareholder meeting for a vote on its plan to buy Fyffes. Yesterday's raised bid for Chiquita from Brazil's Cutrale Group and Safra Group will make it interesting.
A short time ago, the Office for National Statistics said the U.K. economy grew 0.7 percent in the third quarter, matching estimates.
***
- Ebola will be the topic of a hearing by the House Oversight Committee at 9:30 a.m. in Washington. - Mali becomes sixth West African country to report Ebola. - North Korea closes its borders to international tourists amid Ebola outbreak. Pity. - India markets are closed for Diwali holiday. - EU leaders conclude their two-day meeting in Brussels. Yesterday they agreed to carbon-emissions goals that will put the onus on the U.S. and China to measure up. - Canadian MPs made spears from flagpoles while Harper was stashed in a closet during attack in Ottawa. - Editorial cartoon following Ottawa shooting cited for many lumps in throats. - Pro-European slate of Poroshenko galvanizes support ahead of Sunday's elections. - Hatchet-wielding assailant gunned down after wounding two NYC cops, one critically, who were posing for a photo. - Wireless providers fight efforts to improve location of emergency calls from mobile phones. Nice. - German submarine's wreckage found off North Carolina coast. - Suspected Russian submarine not found in Sweden, where they've given up the search. - Rwanda seeks ban on BBC for genocide documentary that implicates President Kagame and his party. - Actress targeted by repugnant, juvenile gamer community after acknowledging reticence to speak out about Gamergate on concern she would be targeted. - Union demands result in loss of rail-car plant in Palmdale, California. - This is how much campaign spending has increased since 1984. - Second U.S. high-school football program shut down by hazing investigation. - Ted Cruz adviser shows comedy chops with tweet linking Ebola to Obamacare. - Scotland Yard pays 425,000 pounds ($682,507) to woman who had a child with a man she didn't know was an undercover officer spying on her. Yes, undercover. - You need a break.
***
Two companies that could not have had more divergent days yesterday have one thing in common. First, the set-up:
Tractor Supply Co., based in Brentwood, Tennessee, owns a chain of retail stores catering to farm communities: tools, apparel, supplies for your livestock or pets, some heavy equipment, etc. Its stock rose 16 percent yesterday, the biggest increase since July 2012, and was the top gainer in the S&P 500 for the session. The company reported earnings Wednesday that beat estimates, raised its forecast and was upgraded to a "strong buy" at Raymond James.
Tesco Plc is a food retailer based in Cheshunt, England, with stores all over the world. Its stock fell 6.6 percent yesterday, its biggest drop in a month, and was the biggest decliner in the FTSE 100 Index. Moody's cut the company's credit rating to Baa3 yesterday, the lowest investment grade, and said it may cut it to junk. Fitch also downgraded the company. The chairman stepped down following the emergence of accounting misstatements, one week after Warren Buffett said his eight-year investment in the company was a "huge mistake."
TSCO US, meet TSCO LN.
Got fat fingers or type too fast? Fair warning.
***
When you think -- with gratitude, pity, prayer, or some combination thereof -- of Americans whose jobs put them in risky proximity to Ebola, who comes to mind?
Start with the brave doctors and humanitarian workers on the front lines in West Africa. Paul Allen's latest philanthropic pledge, to improve the evacuation of medical professionals who become infected, is one of those news items that make you think, "Thank goodness for billionaires."
Then of course there are the people on what so far are the limited front lines of Ebola in America: the doctors and nurses at hospitals in Texas, Georgia and Maryland who have cared for people who contracted the disease.
Now meet Victor Nunez, resident of New York City, father of three. Nunez, the featured player in Tom Moroney's latest "A Day's Work" column, gives us a sense of what it's like when the daily grind suddenly becomes a mortal threat.
His job is to service airplanes at New York's JFK, one of the few airports in the U.S. where flights from West Africa -- specifically, Arik Air flights from Nigeria -- land. With a partner, Nunez stocks food and drink in newly arrived jetliners and removes the detritus from the previous flight.
"Sometimes the refuse, all kinds of liquids included, spills out and they must pick it up," Moroney writes. "With the potential for Ebola lurking in that mess, they need suits, better gloves and shoe covers, Nunez said."
Just wait 'til you read about what happened on Oct. 16. Prepare to be just a bit less unhappy with your current job.
***
The beauty of someone like Manuela Hoelterhoff, who is so thoroughly versed in historical and cultural references, is that even a review of a cookbook can be a revelation.
In her review of "Mastering the Art of Soviet Cooking," Hoelterhoff complements what sounds like a gastronomic version of the stations of the cross, crossing through Soviet eras by the food available to the author, Anya von Bremzen and her mother Larisa.
But it's the asides that Hoelterhoff throws in along the way that makes this review as entertaining as it is. For example, after describing the recipe of what sounds like a pretty nice meal representative of pre-revolutionary Russian fare, Hoelterhoff writes that "most of the ingredients disappear over the coming years, along with millions of people."
Zing!
With a reference to the lines for bread or almost anything that consumers in the USSR faced, she writes that Larisa "met Anya's father standing on line; they dated on another line."
In Moscow, Von Bremzen and her mom dreamed of the meals they would cook. Once in the U.S., they dreamed of Moscow.
We dream of hot dogs.
***
We've probably all messed with a Ouija board at some point in our lives, and now it's coming back to haunt us.
Hoping to entice audiences who share an equal love for board games and horror flicks, "Ouija" hits the box offices this weekend. The pre-Halloween thriller follows your typical Ouija board plot line: teens play with Ouija board, teens refuse to believe in the great Ouija spirits, chaos ensues. It's not too often we see a board-game-turned-movie, and maybe there's a reason for that. It's best the genre sticks with Jumanji.
Next is "John Wick" with an attempt from Keanu Reeves to remind us his career didn't stop in the 90s. Reeves plays an ex-hitman coming out of retirement. The film is not without a sense of irony. And didn't we have Denzel Washington as an ex-hitman-type coming out of retirement just a couple Fridays ago?
Reeves re-enters the assassin's world to seek revenge on a group of gangsters who have committed the unspeakable crime of killing his adorable dog. The action film is packed with fast cars, guns and explosions. There's no doubt Neo would have pulled out all the stops for such a cute dog.
The final film, we're happy to report, is without gimmick. "St. Vincent" stars Bill Murray and Melissa McCarthy, which alone describes the hilarity of the film. Murray is Vincent, an old, get-off-my-lawn type of curmudgeon who starts to mentor a young boy with recently divorced parents.
Get ready for the uncontrollable laughter, and maybe even a tear or two. We would not suggest taking the kids to see this one, however, considering Vincent takes the boy to a strip club at one point in the film. Not the best after-school activity.
Before it's here, it's on the Bloomberg Terminal.
LEARN MORE