Scene Last Night: Bill Ackman's Rockelganger Alice Cooper
Amanda Gordon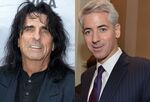 Bill Ackman, the hedge-fund manager, and Alice Cooper, the rock star, were on stage in New York last night -- though as you probably guessed, not the same one.
Ackman's star turn was at the Waldorf Astoria as honoree of the New York Police & Fire Widows' & Children's Benefit Fund, ushered in by bagpipes, drums and Amanda Lupo, granddaughter of a fallen police officer, singing the national anthem.
Cooper performed with and introduced Joan Jett as honoree of Little Kids Rock later in the evening over at Hammerstein Ballroom -- during which it occurred to me that Ackman, with his lanky figure and pretty blue eyes, could easily impersonate hard rocker Cooper on Halloween. All he needs is the right pair of leather pants, a wig and some eyeliner.
In fact, Ackman could team up with his parents on a rocker-family costume: put some spikes in her already dark, cropped hair and Ronnie could be Joan Jett. Lawrence, with his eyebrows, just needs a do-rag to channel Steven Van Zandt.
For the record, Bill Ackman said in an e-mail that he's "not an Alice Cooper fan. Sting is my favorite." As for Halloween, "no plans yet on my costume."
At the Waldorf, Ackman and his dad were in pinstripe suits as they admired the Hermes tie of Phil Hilal, formerly of Kingdon Capital, whom Ackman said is someone to watch. Phil Hilal's brother, Paul, is a partner at Ackman's Pershing Square Capital Management and on the board of Canadian Pacific Railway, which the activist hedge fund has worked to turn around.
Remembering Ace
Paul Hilal and Nicholas Botta of Pershing Square, along with David Herzog of AIG and Edward Skyler of Citigroup, were chairmen of the gala.
Ackman was booked as an honoree two years ago by Stephen Dannhauser, chairman of the Police and Fire fund. On stage Dannhauser called for a moment of silence in memory of board member Alan "Ace" Greenberg, who died in July, and praised Ackman's generosity. Ackman's firm was listed in the program as an "Inspirational Benefactor," contributing $1 million.
The fundraising goal for the gala was $4 million, about 40 percent more than the previous record, said Kevin Parker, president of the Police and Fire fund. The proceeds support annual checks to the widows of firefighters, police officers and first responders who have died in the line of duty, to be used at their discretion.
The stipends are currently $4,500 each, and Parker said he'd like to increase the amount to "make a meaningful difference." The endowment is $45 million, Parker said.
Joan Jett
Charlie Ayres, chairman of Trilantic Capital Partners, helmed a table of his employees. Their firm was a "Never Forget Sponsor" listed at $50,000 in the program. The most distinguished guests at this "Answer the Call" gala were the widows and children and the men and women in uniform.
As for Little Kids Rock, the event raised $1.5 million, said its founder, David Wish, to an audience that included Alex Kirk of River Birch Capital, Mark Leavitt of Piper Jaffray and Christopher Jones of BlackRock, who won a guitar in the silent auction. Mike Pratt, chief executive of Guitar Center, was the corporate honoree.
"Awesome," Jett said of both the performances in her honor and the purpose of Little Kids Rock: to fund music instruction and distribute instruments in disadvantaged public schools. The finale was definitely the most awesome, with all the professional musicians who'd been on the bill, plus Jett, plus teens singing, playing instruments and dancing along to "I Love Rock 'n' Roll."
True Friendship
The roster included Billie Joe Armstrong, Kathleen Hanna of Bikini Kill, Darlene Love, Cheap Trick, Jesse Malin, Mike Ness and Steven Van Zandt, who organized the tribute. Tommy James was there too, after coming on stage to duet with Jett on "Crimson and Clover," a hit he co-wrote and Jett covered on an album in 1982. It was their first time performing together.
E Street Band saxophonist and singer-songwriter Jake Clemons, nephew of the late Clarence Clemons, an original E Streeter, was also a big presence on stage, as an honoree and especially while jumping up and down on a cover of Jett's "Eye to Eye."
Hanna, on her turn, covered Jett's "Fake Friends," with a moving introduction about the seeming pals she had in the '90s who were always asking to borrow her car or for her to listen to their problems (but not hers) over pizza. Then she met Jett, who took her band into the studio under her Blackheart Records and helped her make her best recording ever. Jett, Hanna said, taught her what a true friend is.
(An earlier version of this story was corrected to specify that Jake Clemons is Clarence Clemons' nephew, not his son.)
Before it's here, it's on the Bloomberg Terminal.
LEARN MORE