Pain Begins to Spread as China's Home Prices Fall for Fifth Straight Month
By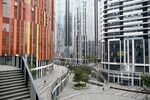 A day after a manufacturing gauge in China showed some signs of improvement in the economy, it was back to bad news. China's property prices fell in all but one of 70 major cities across the country in September, the National Bureau of Statistics announced in a press release today. It was the fifth consecutive month of falling prices.
The lone holdout: the coastal city of Xiamen, which saw prices unchanged over the previous month. Across China, home sales fell 11 percent in the first nine months of the year.
The continuing slump comes as cities across the country have recently loosened or outright abandoned home purchase restrictions put in place starting in 2010. In a bid to boost the flagging real estate sector, Beijing relaxed limits set on home mortgages at the end of September, reversing a four-year-old policy once aimed at taming soaring prices.
In China's capital, prices of new homes dropped 0.7 percent over the previous month, while they were down 0.9 percent in Shanghai. A separate survey by SouFun Holdings, owner of China's biggest real estate website, showed that average home prices in 100 cities fell 0.9 percent.
Stabilizing China's property sector is seen as crucial to avoid a more serious economic downturn. After years of rapid investment, the real estate sector has an outsize impact on China's larger economy; the pain of the property slowdown is already spreading.
"China's structural property downshift [has started] to have a bigger impact on sectors that rely indirectly on property sector (e.g. heavy machinery, cement, steel,)" wrote Tao Wang, chief China economist at UBS Securities, in a research note today that he authored with Donna Kwok,  Harrison Hu and Ning Zhang . "The ongoing property downturn has also started to affect consumption too. While overall retail sales remained resilient, sales of automobiles and construction & decoration materials all slowed in Q3."
(Updated to add full authorship of the UBS Securities research note.)
Before it's here, it's on the Bloomberg Terminal.
LEARN MORE