Obama Plans Campaign Spree as Republicans Seek Gains
Angela Greiling Keane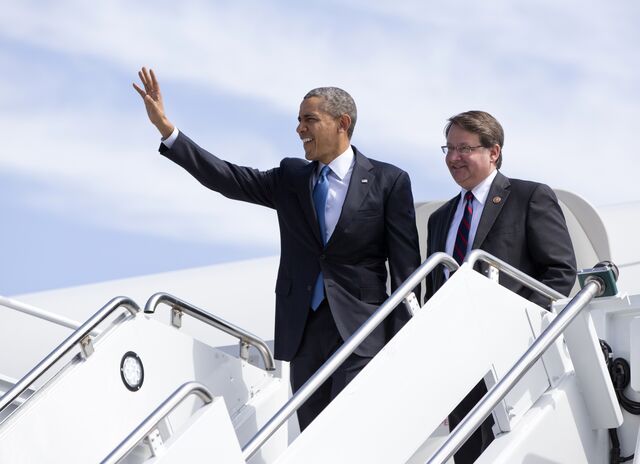 After limiting himself mostly to fundraising during this year's campaign season, President Barack Obama is heading out on the trail.
Obama is scheduled to appear on behalf of Democratic candidates for governor next week in Wisconsin, Michigan, Maine and Connecticut, where Democrats are in close contests. Obama also is making a rare appearance for a Senate contender, Democrat Gary Peters, who holds a comfortable lead over Republican Terri Lynn Land in Michigan.
With his approval ratings hovering at about 41 percent in most recent national polls, Obama has avoided most campaign appearances with Democratic congressional candidates as the party tries to hold its majority in the Senate.
Instead he's been raising money for Democratic campaign committees and working in other ways to rally the party's core constituencies: blacks, Hispanics, single women and young people.
"If the president goes out on the campaign trail, it's not like he's seeking to convert Republicans. That's not going to happen," said Donna Hoffman, head of the University of Northern Iowa political science department. "He's a good campaigner. He can be very significant in terms of boosting enthusiasm."
Six States
Obama has set campaign-related appearances in six states before election day, and his schedule illustrates the restrictions he faces. Other than Peters in Michigan, Obama isn't appearing with Senate candidates even though the party is defending 21 seats and Republicans are poised to gain the six spots they'd need to gain control of the chamber.
In an interview on Bloomberg Television's "With All Due Respect" program, Democratic National Committee Chairwoman Debbie Wasserman Schultz said Obama is actively helping the Senate campaign even though she couldn't name a competitive race where Obama was campaigning.
"There are races that the president is campaigning in around the country, and he's also governing," she said "He's doing his job, and he's also spending time recording robo-calls and doing radio spots."
Only recently has Obama been making appearances with gubernatorial candidates. White House Press Secretary Josh Earnest said candidates across the country have benefited from Obama's fundraising work this year.
Raising Money
All Democratic candidates "benefit from the kinds of resources that the president raised for the Democratic National Committee," Earnest said at a White House briefing. "We have the party working very aggressively to benefit Democrats up and down the ballot, and that's one way in which they'll benefit from the president's involvement."
On Oct. 28, Obama will travel to Milwaukee to appear with Mary Burke, the Democratic candidate for governor and a former Trek Bicycle Corp. executive. Burke trailed incumbent Republican Governor Scott Walker by one point in a poll of likely voters conducted by Wisconsin Public Radio and St. Norbert's College Strategic Research Institute. That's within the poll's margin of error.
Two days after Wisconsin, Obama will fly to Portland, Maine to campaign for Representative Mike Michaud, the Democratic candidate for governor. Michaud is in a three-way race against Republican Paul LePage, the incumbent, and independent Eliot Cutler.
Economy Speech
The next day, Obama will speak at Rhode Island College, in Providence, about women and the economy. The event, aimed at turning out female voters, was rescheduled from last week when Obama canceled his political travel after two U.S. health-care workers were diagnosed with Ebola.
On Nov. 1, Obama will campaign for Peters, a Democratic congressman who in polls leads his opponent for the open Senate seat in Michigan, and Mark Schauer, a Democratic candidate seeking to unseat a Republican governor.
The next day, Obama plans to travel to Bridgeport, Connecticut to campaign for Dan Malloy, the Democratic incumbent governor. Obama also rescheduled this trip from last week.
"It tells you certainly about the intensity and competitiveness of this campaign," said Gary Rose, chairman of the department of government and politics at Sacred Heart University in Fairfield. "I don't know if I want to call it Malloy's hail Mary, but that's really what it is. He needs the president to win this election."
Before it's here, it's on the Bloomberg Terminal.
LEARN MORE