North Carolina Aired More Negative Ads Last Week Than Any Other State
People watching TV could have seen one negative spot per minute.
By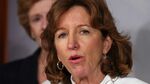 The democratic process is especially vitriolic in North Carolina, where residents have endured more negative ads than any other state in the union.
According to the Center for Public Integrity, there were more than 10,800 spots that criticized either Republican Thom Tillis or Democratic Senator Kay Hagan last week. As Hagan's campaign manager, Preston Elliott, put it in a campaign email, "you can't watch a football game down here without seeing an ad."
Over those seven dismal days, the state's TV stations aired a negative ad an average of once a minute. That includes ads from PACs and other groups, more than 4,300 ads from Hagan and the Democratic Senatorial Campaign Committee and 2,900 from Tillis and the National Republican Senatorial Committee. 
That depressing statistic doesn't even include radio ads, the appearance of fliers comparing a GOP win to lynchings, or new Spanish-language billboards attacking Hagan from the left on immigration. 
North Carolina has also seen the most outside spending in any Senate race in history, OpenSecrets.org reported last week. 
The onslaught of attacks isn't likely to let up. The Koch-back Freedom Partners Action Fund announced a new $6.5 million ad buy in six close Senate races, including North Carolina, linking the Democratic candidates to "President Obama and his failed agenda." The League of Conservation Victory Fund—which portrays Tillis as a Koch-backed climate change denier in its ads—is also investing $4.2 million in ads, mailers, and voter outreach. 
On the bright side, not every ad has been negative — according to the Center for Public Integrity, about two dozen positive ads aired in North Carolina last week.