Political Aide in Bondage Bar: Tabloid Scandals Weaken Abe
By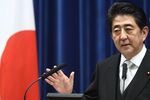 Certainties are rare in the world of politics, but chances are that having your name anywhere close to a headline involving the words "bondage bar" is a sure sign that things aren't going well. Just ask Japanese Prime Minister Shinzo Abe. Two members of his cabinet accused of financial impropriety quit on Tuesday, Oct. 21, and then yesterday, Oct. 23, came a new and even more embarrassing scandal: Trade Minister Yoichi Miyazawa, who had replaced one of the disgraced cabinet members, admitted that one of his aides had spent political funds in a bar in Hiroshima that, according to Kyodo news service, featured live shows involving women in underwear who are tied up with rope.
Abe's government isn't about to fall because of the scandals. The opposition Democratic Party of Japan suffered a shellacking in the 2012 elections, when Abe's Liberal Democratic Party won 294 of the 480 seats in the lower house of parliament. Still, "Abe's iron grip on power is showing signs of loosening," political analyst Koichi Nakano told Bloomberg News. "His legislative agenda is clearly disrupted by the series of allegations." Abe's popularity is slipping: In a poll conducted by Kyodo on Oct. 18 and 19, he had the support of 48.1 percent of voters, a 6.8 percent drop from a September survey. And Kyodo conducted the October poll before the news about the resignations and the bondage bar.
Indeed, the scandals are weakening Abe at a particularly bad moment. After pushing through an increase in the consumption tax in April, he has been setting the stage for bumping up the sales tax again. He is likely to announce his intensions before the end of the year, and if he does go ahead with raising the tax to 10 percent from its current 8 percent, he will need as much political capital as he can muster. The economy is still coping with the increase to 8 percent, from the previous 5 percent, that took effect on April 1. "A 7.1 percent annualized contraction in the second quarter suggested that resilience to future tax increases is limited," Bloomberg economists Tom Orlik and Fielding Chen wrote in a report published today, Oct.24.
If the government had enjoyed more success in the "third arrow" structural reforms of Abenomics, there might be a way out. Orlik and Chen, however, noted that "lack of progress on structural reform means that stronger growth—the alternate route to higher tax revenue—also appears a distant prospect."
For now, though, most investors believe Abe is going to go ahead with the tax increase, according to a report published today by Morgan Stanley MUFG Securities. In a survey of 97 investors, almost all the respondents said they expected the government to raise the consumption tax.
Before it's here, it's on the Bloomberg Terminal.
LEARN MORE