Ford F-150 Has a 'Waiting for the Next iPhone' Problem
By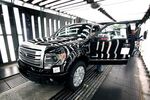 The problem with high-tech hardware, whether it's a smartphone or a pickup truck, is that everyone wants the newest thing. When Apple has a new iPhone in the works, would-be buyers delay their purchases until the next iteration hits the market. Turns out, that tricky timing dynamic happens with cars, too.
Ford Motor, in particular, is facing a bad bit of product whiplash at the moment. It has 16 vehicle launches next year, ranging from facelifts to entirely new models, in the most aggressive schedule to date of what car folks call "product cadence."
"We are committed to offering our customers the freshest lineup of world-class vehicles in the industry," Ford's chief executive, Mark Fields, crowed in a statement this morning, Oct. 24. Exciting stuff, but toxic words for the dealership with a lot full of 2014 Tauruses (Tauri?).
It's catch-22 dynamic: A car company needs new models to drive future growth, and it needs to get an initial sales surge and a price premium from those new models before competitors catch up. But automakers also can't be stuck with current inventory.
As a company shifts from one product to another, prices generally get slashed to keep buyers coming in (see the $99 iPhone 5s). Revenue tends to gets lumpy.
The so-called "product launch effects" drove Ford's auto-related sales down 3 percent in the recent quarter. Profit plummeted 34 percent, in part because Ford idled factories to retool assembly lines for making its new vehicles. Sales of the Ford Edge slid 18 percent in North America as buyers awaited an all-new version expected to hit dealers in the spring. And some 11 percent fewer Ford Fiestas zipped off lots, a vehicle that hasn't been changed drastically since 2008.
Nowhere is the product path more fraught than for the F-150 pickup, the long-time best-selling vehicle in North America and Ford's big metal enchilada. Not only is Ford making a new F-150; it's making a drastically new one. Huge plates of steel will be replaced with lighter aluminum in a bid for fuel efficiency. It's a massive overhaul, and truck buyers definitely took notice.

That big plummet in F-150 sales in the first quarter of this year came when Ford unveiled its all-new aluminum model to much fanfare at the annual Detroit car show. Sales ticked up a bit over the summer and then flattened in the recent quarter as buyers grew expectant for the new iteration, set to reach dealerships in December.
The current F-150 is still a top-seller and Ford has been careful to keep pick-up production tight and keep incentives at or below last year's levels thus far. But if you need a truck and are fond of old-fashioned steel, your local Ford dealer may be increasingly ready to negotiate as December approaches.