Ebola To Do List: Avoid People. Check for Fever. Ride L Train. Bowl
by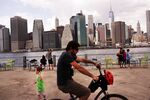 There are 8 million stories in the naked city and at the moment they're all themed "Ebola." Mayor Bill de Blasio, New York State Governor Andrew Cuomo and public health officials are trying to slim the number of stories down to one. It goes like this.

Craig Spencer, 33, is a New York City doctor who contracted Ebola while in Guinea volunteering with Doctors Without Borders. His diagnosis, the first in New York City, has brought the disease to the nation's most densely populated region.
"Ebola is a very difficult disease to contract," de Blasio said at the beginning of a press conference at Bellevue Medical Center in Manhattan.
Spencer knew he was at risk and monitored his own health since his return, the officials emphasized. He kept mostly out of public, slipping out for a run. He did ride a subway train to Brooklyn, to bowl, which, as many have pointed out on Twitter, is a word phonetically contained within the name of the disease.
When he popped a fever Thursday morning and felt some stomach trouble, Spencer alerted the authorities and was placed into isolation at Bellevue, in a ward prepared for New York Ebola patients. Ebola's contagion grows as its symptoms worsen, and Spencer showed no signs of vomiting, diarrhea or blood loss.
Thomas Duncan, the man who fell to the disease in Dallas Oct. 8, interacted with many people as his symptoms grew, yet no one he lived with tested positive. As de Blasio said, it's hard to get.
"I know it's a frightening situation," said Cuomo. "That it's here in New York is more frightening." He assured the press conference that "the more facts you know, the less frightening the situation is."
The officials gave a fluent, confident performance. Each punched his or her key public-health talking points every few sentences, and questions were answered directly and in as much detail as possible.
Contracting the disease on the way to work in the morning has a "probability being very close to nil," according to the city health commissioner, Mary T. Bassett.
"I would get on the subway tomorrow and ride the subway," said Howard Zucker, New York State's acting health commissioner.
Most New Yorkers will do just that. The panic and chaos rampant in movies set in Manhattan really are larger than life.
Workers in the financial district filed patiently up the West Side Highway by the thousands on the morning of Sept. 11, 2001. When a blackout struck the Northeast about two years later, city-dwellers politely refrained from throwing garbage cans through shop windows and looting the joints. The Republican National Convention convened in New York the following year and the local effete core of impudent snobs welcomed the attendees without the drama surrounding, say, the Democratic convention in Chicago in 1968.
It's New York. It's tougher even than people think. The public officials say they're on Ebola. No need to panic about this.
Or even this: A lunatic attacked four police officers in Queens today with a hatchet, injuring two -- one critically. A hatchet. That's unheard of.
Hopefully, before long we'll be saying the same thing about Ebola.
More by Eric Roston (@eroston on Twitter):
Visit The Grid for the latest about energy, natural resources and global business.
Before it's here, it's on the Bloomberg Terminal.
LEARN MORE