Eat This Now: Sweet Potatoes with Zhug at Mile End
by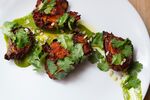 There were heaps of fine, skinny merguez and improbably juicy chicken thighs with crisp, spicy edges as satisfying as a plate of great shawarma at three in the morning. There were sheets of warm, pliable pita bread with so many kinds of pickles and a loose, deeply flavored hummus crowned with pickled red peppers. But the thing I'm still thinking about from my recent dinner at Mile End is the sweet potatoes.

Eli Sussman, who grew up in Michigan and has cooked at Mile End since 2011, told me over the phone that he boils those sweet potatoes to death. "Way past being over-boiled," he said, "until they're pretty much going to fall apart." (If you find this hard to believe, here's a reminder that Heston Blumenthal's terrific roast potato technique also begins by boiling potatoes until the edges start to crumble away in the water.) Then Sussman splits them in two and chills the pieces in the walk-in for several hours, and often overnight. To order, he drops them in the fryer to get them dark and crispy all over.
The result is thin, crackling crusts with steamy hot centers that are extremely tender, somehow as creamy as butter-enhanced mashed potatoes. On the plate, the sweet potatoes get sunflower seeds and cilantro, and a hit of zhug, a habit-forming hot sauce with roots in the Middle East, made here with jalapeños. Sweet potatoes have no business being this good.
This is the second location of Mile End, the Brooklyn-based Jewish deli best known for bringing Montreal-style smoked meat to New York. And since the new iteration opened on Bond Street as a little sandwich shop in 2012, it's grown a lot. For example, now there are chairs.
"At the deli, we serve chopped liver all year long," says Sussman, but his new five-course dinner menu ($40), which launched two weeks ago, is under fewer restraints and can change nightly. The theme is the Middle East and the dishes are brought out family-style to share. There does seem to be a focus on vegetables, which look handsome but not overly styled, like how a chef might plate food at home for his family, when there's no camera to impress.

The cauliflower is particularly beautiful: a single layer of big golden-edged florets with pieces of raw orange under a fine tahini dressing, hot with harissa and sweet with honey, showered with pistachios and almonds. The dressing is rich, thick, and sticky -- it would be a shame to leave any of it on the plate. Do ask for more pita bread.

Dinner was exactly the kind of casual family-style feast I want when I'm not working. And passing around these big platters, everyone serving each other and splitting the last sausage three ways, can feel a bit like a dreamy holiday dinner -- except that Sussman's sweet potatoes are infinitely better.

Mile End Bond is at 53 Bond Street (Noho); +1 212-529-2990 or mileenddeli.com
Before it's here, it's on the Bloomberg Terminal.
LEARN MORE