Daimler to Volvo Said to Get EU Objections in Truck Probe
Aoife White, Karin Matussek and Gaspard Sebag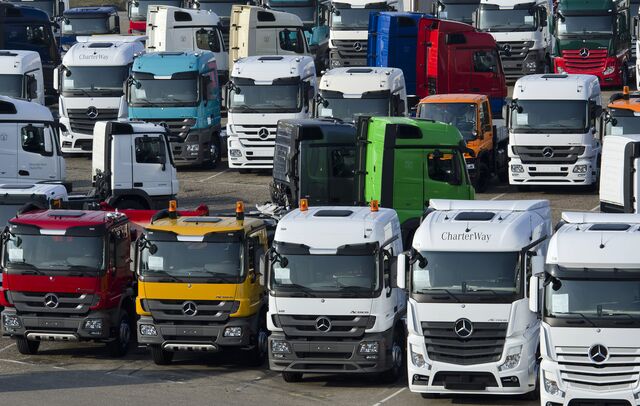 Daimler AG and Volvo AB are among truckmakers poised to get a European Union antitrust complaint for suspected collusion, according to three people with knowledge of the probe.
Volkswagen AG's MAN SE and Scania AB, CNH Industrial NV's Iveco, and Volvo's Renault Trucks are also involved in the case, said two of the people who asked not to be named because details are confidential. The six manufacturers were raided by the EU in 2011.
The EU's statement of objections, which lists suspected antitrust violations, may be sent as soon as next month, two of the people said. DAF Trucks NV, part of Paccar Inc., is also part of the case, one person said.
The auto industry is the focus of investigations by competition authorities across the world. The EU is probing "an abundance of cartels" among parts suppliers, an official said last year. Fines can be as much as 10 percent of annual revenue for secret deals with rivals to set prices or rig markets. Manufacturers of ball bearings to car and truckmakers were jointly fined 953 million euros ($1.2 billion) in March.
"The investigation is ongoing and we are awaiting its result," Kina Wileke, a Volvo spokeswoman, said in an e-mailed response to questions on the truck case.
CNH Industrial declined to comment, as did Antoine Colombani, a spokesman for the commission in Brussels.
'Fully Cooperating'
"We're aware of the investigation," said Silke Mockert, a Daimler spokeswoman on the phone. "We don't comment on ongoing proceedings."
Scania is included in the EU investigation and has been fully cooperating with authorities, spokesman Hans-Aake Danielsson said in an e-mail. Manuel Hiermeyer, a spokesman for MAN, declined to comment because the probe is ongoing.
DAF didn't respond to a call and and an e-mail.
Volvo, based in Gothenburg, Sweden, jumped as much as 14 percent in Stockholm trading today as the truckmaker increased a cost-reduction target and reported growth in adjusted earnings on a North American demand surge.
Hyundai Motor Co. and Korean units of Scania, Volvo, Daimler, MAN and Tata Daewoo Commercial Vehicle Co. were fined by South Korean regulators last year for fixing prices of trucks and tractors sold in the country.
The U.K. dropped a civil probe into a truck-manufacturing cartel in 2012, saying the EU was "particularly well placed" to handle the investigation on a wider level. British authorities ended a criminal probe into the trucks industry in 2011 that led to the arrest of a Daimler executive, citing lack of evidence.
Before it's here, it's on the Bloomberg Terminal.
LEARN MORE