Fork Over an Extra $2.7 Billion to Brussels? No Way, Says Britain
By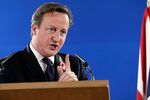 A taxpayer who gets richer should expect a bigger bill from the tax man, right? If the taxpayer is Britain and the tax man is the European Union, the answer isn't that simple.
The British are in an uproar after they were told this week to contribute an extra 2.1 billion euros ($2.7 billion) to the EU budget by Dec. 1, while some European neighbors with weaker economies were told their contributions would be reduced. Prime Minister David Cameron is promising to fight the demand, which came after the European Commission recalculated member countries' payments to reflect their economic performance. "If people think I am paying that bill on Dec. 1, they have another thing coming," Cameron told reporters in Brussels.
There's no question that Britain's economy is one of the healthiest in the 28-country bloc. Figures released today showed the U.K. has enjoyed seven consecutive quarters of expansion, including 0.7 percent growth from July to September. That compares with a forecast 0.2 percent for the EU overall during the quarter, as the economies of Germany and France have sputtered.
According to a BBC report citing a leaked EU document, Britain has been told to top up its 2014 contribution to Brussels by about 20 percent. The Netherlands, another relatively strong economic performer, was dunned an additional $811 million, while France's payment was cut by $1.3 billion and Germany's by $984 million. The demand for higher payments "reflects an increase in wealth, just as in Britain you pay more to the Inland Revenue if your earnings go up," a European Commission spokesman told the BBC.
Cameron and his Conservative-led government, though, face increasing pressure from the rise of the U.K. Independence Party, which wants Britain to leave the EU. UKIP outpolled the Conservatives and the opposition Labour party in European parliamentary elections in May and won its first British parliamentary seat in a by-election this month. Cameron has already promised to hold a referendum on EU membership in 2017 if he's reelected next year.
Although Britain is in better shape than some neighbors, growth is cooling because of the economic slump on the Continent. And there's resentment against some fellow EU members—France, notably—that have lagged on structural reforms to reinvigorate their economies, and now are getting a break from the EU because of sluggish growth.
Cameron has requested an emergency meeting of EU finance ministers to discuss the situation, as Labour and Tory lawmakers joined in denouncing the EU's payment demand.
Strange as it may seem, some of Europe's most troubled economies—Italy, Greece, and Cyprus—are also being asked to pony up more to the EU. That's because, for the first time, the EU payment formula takes account of widespread off-the-books economic activity in those countries.
Before it's here, it's on the Bloomberg Terminal.
LEARN MORE