Ben Bradlee, Oscar de la Renta, Nelson Hunt: Obits This Week
Steven Gittelson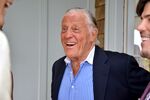 This week's notable deaths included the newspaper editor who directed the Washington Post's Watergate coverage that toppled a U.S. president; the fashion designer who became famous by creating gowns for first ladies and actresses; and the Texas oil tycoon who lost a fortune betting on the price of silver. Below are summaries of these and other obituaries.
Ben Bradlee, 93, was the former executive editor who transformed the Post into a major U.S. newspaper by publishing the Pentagon Papers and overseeing the Watergate scandal coverage that led to President Richard Nixon's resignation in 1974. The Post won 18 Pulitzer prizes during Bradley's tenure, from 1968 to 1991. Died Oct. 21 at his home in Washington, D.C.
Oscar de la Renta, 82, was a Dominican-born U.S. fashion designer who dressed Hollywood stars and first ladies, including Jacqueline Kennedy, Nancy Reagan and Hillary Clinton. He was the first American to become the top designer of a French fashion house, Paris-based Balmain. Died Oct. 20 of complications from cancer at his home in Kent, Connecticut.
Nelson Bunker Hunt, 88, was an heir to his father's oil fortune who lost most of his wealth when he tried to corner the silver market and the metal's price plunged. His losses shook world markets in 1980, resulting in his ban from commodities trading and the adoption of rules to limit the size of the positions speculators could amass. Died Oct. 21.
Christophe de Margerie, 63, became the chief executive officer of oil producer Total SA, France's biggest company by sales, in 2007. He oversaw the Paris-based company's global operations that include British shale exploration, West African oil drilling and Russian oil and gas production. Died Oct. 20 in an airplane crash in Moscow.
Gough Whitlam, 98, was removed as Australia's top public official by the British monarchy in 1975 when his administration was mired in scandals. During three years as prime minister, his government introduced free university education, granted land rights to Aborigines, created a national health system and opened diplomatic ties with China, now Australia's largest trading partner. Died Oct. 21.
Thierry Leyne, 49, was a French-Israeli entrepreneur who last year started an investment firm with former International Monetary Fund Managing Director Dominique Strauss-Kahn. Died Oct. 23.
Before it's here, it's on the Bloomberg Terminal.
LEARN MORE