A Republican Looking for Latino Votes ... in Nebraska
A shoo-in Senate campaign attempts to win votes without endorsing immigration reform.
By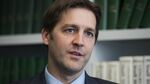 In this Bill Buckner year for Tea Party organizations, Nebraska stood out as a rare, clean win. Ben Sasse, a Bush administration veteran and conservative college president, jumped into an open seat Senate race early and eventually demolished two squishier opponents. Few pollsters have bothered to check in on his race; when they have, they've found the Republican up by 20 points or so, in a state that has not elected a Democrat in an open seat since 2000. His opponent, Dave Domina, has run an intriguing populist campaign and raised about one dollar for every six in the Sasse bank.