pursuits
Can the Internet Help Women Feel Better About Their Breasts?
Can the Internet change the way women buy bras?
By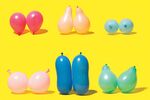 The idea for True & Co. came to Michelle Lam during a shopping trip. She was a former principal at Bain Capital in Boston who'd moved with her husband to San Francisco in 2011. "I wasn't intending to focus on bras until I got stuck in a lingerie store fitting room in San Francisco, and two hours later I walked out empty-handed," she says. "I had a lot of time in that fitting room to think, and I had a couple of insights. First was that a bra fitting is the worst shopping experience you can have, and second was that there was nothing wrong with my body because I couldn't find a bra that fit. There was something wrong with the product."
For those unfamiliar with the rite, a traditional bra fitting is a cross between that dream where you've forgotten to wear your clothes to school and an episode of The Walking Dead. Upon entering a boutique, a usually older, often pushy lady approaches with a demented intensity, staring at your chest. She stuffs you into a fitting room, demands you take off your shirt, and uses her cold hands, along with a measuring tape, to deduce your bra size. Sometimes it's different from what you have on; for this you're shamed. You eventually buy a couple of $80 bras and leave, demoralized and broke. "The experience of having someone measure me and reduce me to a size was something that I felt should be questioned," says Lam.

After that fitting-room epiphany in the summer of 2011, Lam, 35, got to work on designing an alternative for the Internet Age. She started by putting 500 bras on her credit card. "I stacked them all in my living room—you can imagine how much my husband enjoyed that," she says. She invited friends to her apartment for fitting parties, bribing them with Champagne and sushi, where she grilled them about their experiences with bras. Lam provided robes and T-shirts for her guinea pigs, giving them a handwritten quiz. She asked them if their bras hurt, if the bands rode up, if the bras made them feel better or worse about themselves. She didn't want anyone to feel uncomfortable or to have to get undressed in front of others, but, she says, "after sharing their horror stories about bras—and everyone had one—these women didn't care about stripping naked in front of each other."
In April 2012 she moved all the bras into an office space ("It's me or the bras," Lam's husband had said) and completed her first round of funding in a two-week frenzy. To date she's raised $6 million from investors that include Crosslink Capital and FundersClub. Lam took the bras and the complaints and, factoring in what she describes as 6,000 body types she's identified, built an online questionnaire that asks things like: How old is your bra? How do you feel about padding? Are you right- or left-breasted? Do your shoulder straps dig in? What's your dress size? True & Co. launched its website with the bra-picking quiz later that year and had to shut down temporarily after being flooded with thousands of orders. In two years, says Lam, the quiz has been filled out by more than 1 million women, and the company has shipped more than half a million bras. At around $45 apiece, that's more than $22 million in revenue.
 
 
At least six substantial, well-funded e-commerce lingerie companies have popped up in the past two years, most hoping to overthrow a sizing system that's been around since the 1930s, when a now defunct American lingerie company, S.H. Camp & Co., began using the letters A through D for its products. By the 1970s sizes were standardized, with a number for the band size, which is a measurement of the top of a woman's rib cage, from 30 and up. Most U.S. lingerie companies use the same fit models, so a 34B from Victoria's Secret should have the same fit as a 34B from Playtex. But in practice, size and cup shape vary by manufacturer; a woman might be a 32C at one store and a 34B at another. In 2005, Oprah Winfrey aired a show dedicated to finding the right bra fit, based on the unverifiable research that 80 percent of women were wearing the wrong size. "Women of America," Oprah sang, "you need to rise up and get a proper bra fitting."
Last April, Lauren Schwab and Marissa Vosper, friends from the University of Pennsylvania, left their New York jobs in private equity and marketing, respectively, to collaborate on an online lingerie store, Negative Underwear, with products that have less embroidery, no padding, and no itchy tags. Another pair of New York friends, Yun Ah Lee (private equity) and Jiabei Chen (a lawyer), founded Ampere with the goal of making a Warby Parker for lingerie. Customers are sent multiple bras in different sizes to try on and keep only those that work. Israeli venture capitalist Orit Hashay started Brayola; she's planning to crowdsource recommendations from women with like sizes and body types.

Heidi Zak, a former Google executive, and her husband, Dave Spector, a former partner at Sequoia Capital, built ThirdLove, which has a sizing app for smartphones. Zak says the inspiration behind her business was her experience as a new mom. "My life was super hectic. I really didn't have time to spend a Saturday afternoon driving to a lingerie store, and I didn't want to have that awkward fitting-room experience."
Around the same time, Morgan Hermand-Waiche, a French guy attending business school in New York, wanted to buy his girlfriend lingerie for her birthday. He couldn't afford anything he liked, so he thought: fast fashion for lingerie! His company, Adore Me, is the only bra startup that's run by a man. It's also the one that's received the most funding—$11 million total from firms such as Upfront Ventures, Mousse Partners, and Redhills Ventures.
Like True & Co., Adore Me uses a questionnaire to direct customers to the correct styles for their specific shape. This one resembles the dating app Tinder, offering images of women in sexy lingerie and asking users to swipe one way if they like the look and the other way if they're not interested. Most brands launch collections two or three times a year, but Adore Me has a new collection every month. It's cheap—bras are $39.95, and the site features a VIP subscription option, which costs $40 a month. Customers get a curated box of lingerie delivered to their homes monthly, and shipping and returns are free.
Adore Me traffics in the same "women first" language as its peers. "We're all about female empowerment," says Sharon Klapka, Adore Me's head of business development. "We're a Lean In partner." Even so, Adore Me's site appears to offer an old-fashioned kind of empowerment, the kind a man would like; it includes hot maid outfits for Halloween, also $39.95. Klapka says that in 2013 revenue was $5.6 million and the VIP customer base grew 450 percent.
 
 
All of the bra startups are trying to steal busts from Victoria's Secret, a heist that could be hugely profitable. Lingerie store sales (which include bras, underwear, and sleepwear) in the U.S. reached about $13 billion in 2013, according to research firm IBISWorld; Victoria's Secret accounts for almost half that figure. Founded in 1977 and sold to the Limited (now L Brands) in 1983, Victoria's Secret's mail-order business and mall presence spiked in the 1980s and early '90s, and began to reach cultural omnipresence in 1997 with the introduction of the Victoria's Secret Angels. Supermodels such as Tyra Banks and Helena Christensen became synonymous with the store, and its foam-filled Wonderbra was the major cleavage innovation of the 20th century.
The company has now ventured outside lingerie to become a lifestyle brand, launching Pink, a line for younger customers, in 2002, as well as swimwear, beauty, and fragrance lines. The Victoria's Secret runway show has also become a big marketing success. Last year, 15 million viewers watched model Karlie Kloss march down the runway in a psychedelic butterfly suit and a pink push-up bra. (Victoria's Secret declined to comment.)
The rest of the market is a mix of high-end department-store brands such as Chantelle, Natori, and Wacoal, whose bras retail for around $80; licensed offshoots of larger fashion companies such as Donna Karan and Calvin Klein; and expensive, sexier lines such as Agent Provocateur and La Perla, whose bras can cost as much as $500 apiece and are popular on wedding nights and Valentine's Day. Rounding out the category are house brands at specialty stores like Journelle and Intimacy, and lower-end brands such as Playtex, Fruit of the Loom, and Maidenform.
The idea of reclaiming lingerie from Victoria's Secret is a rallying cry among the bra startups. "So much of the lingerie space is run by men," says Schwab of Negative Underwear. "That's also why so many of the products don't fit well, because the focus is on aesthetics. They don't think about how it's going to feel, but how it's going to look."
The startups don't offer feminine stores with good lighting in premium shopping districts, so they compensate by promising good quality and more choice with a better final fit, usually arrived at with allegedly scientific data.

On an October afternoon, I try ThirdLove's app, standing in front of a mirror and taking unflattering half-naked selfies, while a stern woman's voice instructs me to hold the iPhone so it captures the exact right angle of my bra. "Slightly raise right end of the phone," she says. "Tilt phone away from the mirror. Slightly raise left end of the phone." Finally I get it, and the flash goes off automatically. "Good job," she says. A few minutes later, the app spits out my bra size and directs me to the ThirdLove site, where bras average around $45 and are simple and comfortable, with few sexy details. The process takes about 15 minutes to complete. Zak swears the whole thing is truly computer-generated and that no bra-sizing savant will be eyeballing my pictures.
ThirdLove offers half-cups—the app might tell you you're a 32B½ instead of a 32C. It's an expensive innovation in that each bra must be produced in double the number of sizes, but, Zak says, that cost is made up for in customer satisfaction: "I'm a half cup!" writes Susan, an "outdoor enthusiast" and ThirdLove customer, on its site. "Fit used to be a real problem for me. Not anymore."
Adore Me sells bras up to 42G, whereas most Victoria's Secret bras stop at 38DDD: "If you're a woman over a size 10, you're not invited to that party," says Adore Me's Klapka. (In the past 20 years, as Americans have gotten larger, the average woman's bra size has increased from 34B to 34DD, according to a 2013 survey of more than 60,000 women by lingerie retailer Intimacy.) Klapka curates a box of Adore Me lingerie for me, and it arrives in a sleek black carton, the merchandise wrapped in pink paper. The bras are padded and lacy and push-up and come in black and hot pink and neon blue. When I ask Klapka about their striking similarity to Victoria's Secret bras, she laughs. "That's because we snatched the former director of design from Victoria's Secret," she says.
Negative is more focused, aiming at what Vosper calls the "New York working girl," who, judging by images on the site, metabolizes food almost instantly. The bras, which cost around $75, have a minimalist, unlined vibe; they're made to be worn with sheer and low-backed shirts. Vosper and Schwab, who self-funded their first line, say they spent two years traveling the world to find the best materials—hook and eyes from France, elastic from Japan, fabric from America and Belgium. "So much of lingerie is sold in a way that's all about the voyeur," says Schwab. "We've marketed it as—for you." Lines like "Smart is Super Sexy" and "Bras Don't Have to Suck" pepper Negative's website. Negative bras arrive in a kind of fancy silver zip-lock bag. They're pretty to look at but, because they're not lined, are best for smaller sizes.
The direct-to-consumer model helps keep the cost of bras down, says Schwab, and she and her peers are convinced that young women, used to shopping online, won't miss the physical try-on factor or painful fitting process. Danielle McCoy, an analyst at Wunderlich Securities who follows the lingerie market, is a bra startup skeptic. She warns that it will still be a challenge to get women to give up the store experience. "Going in to touch and feel and try on is very important to the Victoria's Secret customer," says McCoy. "In the lingerie sector, there's a lot of brand loyalty. Once women find a brand and size and style they like, it's extremely hard to try to get them to try on different ones."
This is anecdotally true. The bras I wear are from Chantelle, and that's all I buy. They fit me, and they're comfortable. I get them online or from Bloomingdale's a few times a year, shelling out $80 a pop, because I'm too lazy to investigate cheaper options and Victoria's Secret isn't my style. A quick survey of my friends reveals the same purchasing habits. One will buy only Wacoal minimizers. Another swears by Calvin Klein. A co-worker wears a French brand called Empreinte. Its bras cost $150, but, she says, it's the only line that holds her up properly. The true challenge for these companies won't be finding the perfect fit, or having the coolest app, or even keeping costs down. It will be getting women to change their habits about one of their most personal and charged transactions.

With venture funding continuing to roll in, the startups have time to keep experimenting. True & Co. recently introduced a sizing system called TrueSpectrum, which assigns customers a color to correspond to her shape. "Citrine" is full and round, for example, and "mulberry" is full on the sides. To test the method, I ordered four bras available in my color: one Betsey Johnson, one Calvin Klein, and two from the True & Co. line. So what's the verdict, the grand truth of the imminent data-driven disruption of the bra industry?
They're … OK. They don't hurt or anything, but any sort of revolutionary idealized fit eludes me. They're shoved to the back of my lingerie drawer, behind the Chantelles. I was so-so on the other brands, too, though ThirdLove was my favorite. It's hard to disagree with a single word of their sales pitch about the awfulness of the old-school fitting experience, but there are limits to the application of big data to the garments that hold up our boobs. True & Co. is often referred to as "the Netflix of bras"—they recently hired Chris Pouliot, Netflix's former director of algorithms and analytics, as an adviser. He's helping to mine data to optimize customer experience, and some of what he's learned is delightful: Cat owners, for example, buy more lace bras than dog owners. He's also discovered that married women prefer "comfortable" bras, singles like "sexy and romantic," and those in a relationship land in the middle. The pushy lady with the cold hands could have told me that.
Before it's here, it's on the Bloomberg Terminal.
LEARN MORE