Texas Election Fought in Cities as Wide-Open Spaces Turn Urban
Mark Niquette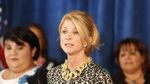 Democrats waging an 18-month effort to mobilize Texans to elect Wendy Davis governor and break a 20-year Republican lock on statewide offices have a guiding philosophy: The Lone Star State isn't red. It just doesn't vote.
The Nov. 4 race between Davis and Republican Attorney General Greg Abbott will test that theory. Democrats are counting on turning out voters in a state that's increasingly urban and Hispanic, with more than 40 percent of its 14 million registered voters clustered in five counties.
At the same time, Texas voting has trailed the U.S. average in every national election since 1972, and Hispanics, projected to become the state majority by 2050, cast ballots at half the rate of whites, according to a study last year by the University of Texas at Austin. Democrats' success in the second-most-populous state depends on tapping that potential, and will be a clue to the outcome of future elections.
"If they could do the hard work of educating, registering and turning out the sleeping giant, it probably would be over," said Orlando Sanchez, the Republican Harris County treasurer in Houston. "Will the sleeping giant wake? I don't know that it will."
Abbott, 56, the state's top law-enforcement officer since 2002, had more than five times as much cash as Davis for the campaign's final month, reports show, and a 12.3 percentage point lead, according to an average of polls compiled by the website RealClearPolitics.com.
Point Spread
Abbott is pledging to continue economic expansion and job growth in the state that's home to Exxon Mobil Corp. and Dell Inc. It's added 1.3 million jobs during the past four years, and its unemployment rate of 5.2 percent in September was lower than the national 5.9 percent.
Davis, 51, a lawyer and state senator elected in 2008 from Fort Worth, rose to national attention last year when she filibustered in pink running shoes against new abortion restrictions. She's promoting issues that appeal to urbanites, such as education funding, and accusing her opponent of working for insiders.
If Davis wins, or loses to Abbott by less than the 12.7 percentage points that separated former Houston Mayor Bill White and Republican Governor Rick Perry in 2010, it will signal an important shift in Texas, said Mark Jones, a political scientist at Rice University in Houston.
"This race is going to be a barometer of where Texas is in the evolution from a red to a purple to a blue state," he said.
State Uniform
Texans have packed into cities, belying the rural image of a state where even dentists and accountants who have never straddled a horse wear cowboy boots meant for riding the range.
The proportion of urban residents has increased to 85 percent from 63 percent in 1950, according to the Texas State Data Center, putting it roughly on par with New York state. Houston, San Antonio, Dallas and Austin are now among the dozen most populous U.S. cities, U.S. Census data show.
The Houston metropolitan area alone added 1.2 million people between 2000 and 2010, more than any other, and tops New York as most racially and ethnically diverse, a Rice University report said.
The cities became more Democratic as they became more diverse. Houston has an openly gay Democratic mayor, Annise Parker, and Julian Castro, a second-generation Mexican-American, won three terms as San Antonio mayor on his way to place in President Barack Obama's cabinet. The trend may accelerate.
Door Knockers
Texas's Hispanic population, 38 percent in 2010, is projected to reach 53 percent by 2050. While Hispanics voted 61 percent Democratic in the 2010 Texas governor's race, their share of the vote was 17 percent compared with 67 percent for whites, according to exit polls.
The group Battleground Texas, which includes veterans of Obama campaigns, started mobilizing those voters in February 2013. It uses a data-driven, grassroots approach and has 32,000 volunteers who have contacted more than 5 million voters, said Executive Director Jenn Brown.
"As more Texans participate in the electoral process, who is elected to statewide office will change," Brown said.
The focus is on mobilizing friends and neighbors. At an Oct. 13 meeting with a half-dozen volunteers in the Houston home of attorney Jennifer Windham, staff members Pamela Chomba and Brynna Quillin explained how the group is creating "staging locations" and filling such jobs as "canvass captains."
Vote Early
"You can be the reason why someone goes out to vote for Wendy," Quillin, 22, a California native, told the group. She was in the Texas House gallery during Davis's filibuster last year and was inspired to work for the campaign, she said.
Battleground Texas emphasized early voting, and initial results showed an increase compared with the same period in 2010, according to the secretary of state's website. Through Oct. 21, about 12 percent more voters cast ballots by mail or in person in the five most populous counties.
Steve Munisteri, chairman of the Republican Party of Texas, agrees that demographics have increased Democrats' prospects.
"This is a competitive state," Munisteri said. "It's just that we've been winning the competition."
The party may be assisted by an Oct. 18 U.S. Supreme Court decision that permitted a Republican-sponsored voter identification law to stand for this election. A federal judge has said it will affect more than 500,000 voters who are disproportionately black and Hispanic. Backers say it's meant to prevent corruption, though there were only two instances of in-person voter fraud among more than 62 million votes cast in elections in 14 years, according to testimony in the case.
Vote Often
Abbott said in an interview he has increased outreach to Hispanics, airing ads in Spanish and noting that his wife would be the first Hispanic first lady.
"The more we get that message out, the more we are going to increase the percentage of Hispanics who vote Republican," Abbott said in an Oct. 14 interview after a Houston event.
Democrats say that bloc is naturally theirs.
"It's very simple: If we get our voters out, we win," Davis told supporters during an Oct. 19 conference call. She told supporters at an Austin restaurant four days earlier that "staying at home is voting too; it's just voting to do nothing."