Tesco CEO Says Grocer Needs to Create Financial Headroom
Andrew Roberts and Paul Jarvis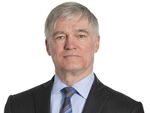 Tesco Plc's departing Chairman Richard Broadbent said yesterday that he wanted to draw a line under a miserable year for the U.K.'s biggest retailer. The immediate future may offer little respite.
With sales and profit falling at home and abroad, new Chief Executive Officer Dave Lewis must find a way to win back shoppers even though rising debt and a mounting pension deficit means there is less money to refurbish stores and cut prices.
Speaking after Tesco reported a 41 percent first-half profit slump and a bigger accounting black hole than expected, Lewis said he's reviewing all parts of the business to try to bolster the balance sheet, respond to nimbler competitors and rebuild faith in the brand. While hinting at price cuts and disposals, he failed to convince analysts that a turnaround will be anything other than a long haul.
"Tesco's problems can be summed up as Tesco having lost its emotional connection with the customer," Dave McCarthy, an analyst at HSBC Securities, said yesterday. "This needs rebuilding by Tesco becoming the shopper champion and by behaving as a market leader. This will take time and money."
As the grocer's sales have wilted under an onslaught from German discount rivals Aldi and Lidl, its finances are being stretched. Net debt rose 7.1 percent to 7.5 billion pounds ($12 billion) in the first half of the year, while non-current liabilities, or long-term borrowings, increased 18 percent to 16.5 billion pounds, the retailer's accounts show.
That isn't lost on Lewis, who told a press conference yesterday that balance sheet leverage is "too high."
Pension Gap
Tesco also has a growing pension deficit, which rose to 3.4 billion pounds from 2.6 billion pounds in just six months.
Moody's Investors Service yesterday lowered its credit rating on Tesco to Baa3, the lowest investment-grade level, and said the rating may be cut further to junk status. Fitch Ratings took similar action.
Lewis, a 49-year-old former Unilever executive who took the helm last month, said he isn't working on a rights offering to raise money -- before adding that "you never say never." That option has been mooted by analysts at Shore Capital, who also say Tesco could sell international businesses.
While Lewis refrained from committing to specific asset sales or spinoffs, he said he saw "significant" opportunity to extract value from the existing business.
"The review will take us some time and it's much more important that we do it well than we do it at breakneck speed," Lewis said on a conference call. He and new Chief Financial Officer Alan Stewart will look at "all options."
Billions Needed
Asset disposals in Asia look most likely, Exane BNP Paribas analyst John Kershaw said this month. Tesco may also sell stakes in its banking arm and Dunnhumby, a customer data provider, he said. The South Korean, Thai and Malaysian units could be valued at 9 billion pounds, according to Bruno Monteyne of Sanford C. Bernstein. He values Tesco Bank at about 1.4 billion pounds.
"I don't think it's smart" to sell profitable businesses in Asia or elsewhere, said David Gray, an analyst at researcher Planet Retail in London. He said the grocer should focus instead on exiting non-core businesses such as the Blinkbox movie-download service and Dobbies, a garden center chain, though that is unlikely to raise much cash. Tesco could also lease floor space at its hypermarkets.
Shares Slump
Tesco may need more than 3 billion pounds and six years to restore its business, according to a report this week from HSBC's McCarthy. Lewis responded that he hoped to be faster in executing a revival than McCarthy estimated, and at a lower cost. "When the strategy is clear, I'll be able to give you a better assessment of how long it might take us to achieve the goals we set ourselves," Lewis said on the call.
Uncertainty about the disposals, fundraising and strategy contributed to the shares falling 6.6 percent yesterday to the lowest since March 2003. They declined a further 1 percent to 169.35 pence at 8:08 a.m., leaving the grocer with a market value of 13.7 billion pounds after a 49 percent decline in 2014.
"We expect the turnaround process at Tesco to be protracted and painful," Sam Hart, an analyst at Charles Stanley & Co., said in a note. "Restructuring is likely to require significant investment and may be disruptive to the business in the near- to medium-term. The possibility of a further material decline in earnings remains."
Before it's here, it's on the Bloomberg Terminal.
LEARN MORE