pursuits
Recruit Me With a Manicure
It's not sexist for companies to use gendered hiring tactics
Chloë Schama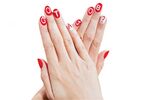 In early October consultants at McKinsey invited potential female employees—and only females—from Stanford's business school to a recruitment event at a nail salon. They thought it'd be fun. "We often organize informal events, including golf, bowling, and wine tasting," a spokeswoman says. "Many of the events are open to men and women, but some are for women only and have proved popular."
They've also proved popular among Internet grousers, who pounced on the firm for pushing a supposedly outdated stereotype. "If consultancies are offering recruits pedicures, it can't be long before the banks retaliate by offering bikini waxes," wrote Lucy Kellaway in a Financial Times column that claimed the activities "discriminate against those of us who think manicures are boring." Same goes for Goldman Sachs, which handed out nail files and vanity mirrors to Harvard women last February. And boo on the consulting firm Bain, which planned all-ladies cooking classes for business students. (Stanford, for its part, pleaded ignorance of Nailgate. "This was an off-campus event, and my career-management colleagues were not aware of it," says university spokeswoman Helen Chang.)
Yet what's so terrible about giving away a pedicure? Sure, it may be strange to be barefoot while talking about your résumé, but all networking events are awkward. They're made even worse by including such male-centric activities as Scotch tasting, golf, or some modern macho equivalent. A few weeks ago, my husband was summoned to play laser tag with his co-workers under the auspices of "bonding." That's not a gendered activity, exactly, but it's also not something any woman has ever suggested doing with me.
In October, Facebook and Apple were criticized for supposedly manipulating the recruiting process when they announced they'd pay for egg freezing. Although fertility's a far more loaded issue than nail art, there's the same contradiction at play: Professional women are invited by their workplace to, you know, be women, while still being told to act like men. Long before we're offered jobs at a place like McKinsey, we're advised to speak up, to state our ideas affirmatively, to never preface with an apology—to be a dude, essentially.
Off-campus "ladies' nights out," as one MBA friend called them, can't stand in for actual protections overdue to women in the workplace. But a casual environment, with maybe a little white wine, seems like a nice place to acknowledge that being a woman at work isn't exactly like being a man.
Is offering women recruits mani-pedis really any different from, say, inviting gay students to a networking event at a gay bar? That happens frequently, and one could argue it's discriminatory to straight men and women. According to George Rutherglen, a University of Virginia School of Law professor who specializes in employment discrimination, recruitment efforts that target one group over another technically violate Title VII of the Civil Rights Act. Yet an employment discrimination claim must rest on the idea that there's been an adverse impact on one party. And courts are highly unlikely to rule in favor of a member of a dominant majority. Sorry, white men.
To learn about this legalese, I e-mailed a friend who's a senior lawyer at a big Manhattan firm. When she was starting out, she told me, she'd have thought the offer of nail polish was sexism, pure and simple. As she's stuck around—and watched more and more women leave—her thinking has shifted. Being a woman and committing to a demanding career is undeniably rough. Recently, in the middle of a particularly grueling stretch, she took a younger female colleague out to get their nails done. This wasn't an act of girlish condescension. It was solidarity. 
Before it's here, it's on the Bloomberg Terminal.
LEARN MORE