Publicis CEO Pledges Turnaround After Cutting Forecast
Kristen Schweizer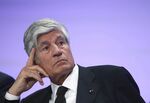 Publicis Groupe SA cut its sales forecast after third-quarter revenue missed estimates as the French advertising company coped with the fallout from a failed merger with Omnicom Group Inc.
Full-year organic sales, which strip out acquisitions and by which the ad industry gauges performance, will be similar to the 1.5 percent growth for the first nine months, Paris-based Publicis said today. That compared with a February projection for more than 4 percent. Total revenue reached 1.7 billion euros ($2.1 billion) last quarter.
Chief Executive Officer Maurice Levy, 72, said sales growth didn't meet the company's expectations as managers were preoccupied with "other plans." Publicis and Omnicom Group Inc. abandoned their $35 billion merger in May after executives disagreed over how to run the combined entity. Levy said Publicis is revising its 2018 business plan and will present it to investors soon.
Shares of Publicis, which owns ad agencies including Saatchi & Saatchi and Leo Burnett, fell 5.4 percent to 50.64 euros as of 9:21 a.m. in Paris trading, giving the company a market value of 11.2 billion euros.
"The company, it seems, has not recovered from the protracted Publicis-Omnicom process and remains well off the pace of peers both for this quarter and in terms of their revised revenue guide for full year 2014," analysts at Jefferies International Ltd. wrote in a note.
Razorfish Performance
Organic sales were also hurt by poor performance at one of Publicis's digital companies, Razorfish, and as advertisers cut marketing spending. Developments with two major accounts, Motorola and BlackBerry, "had a negative bearing" on Razorfish, Publicis said in a statement.
Publicis reported a 1.5 percent increase in third-quarter organic revenue from North America and a 0.5 percent decline in Europe. Sales in emerging markets gained 0.6 percent. Digital operations accounted for 41.6 percent of sales as of Sept. 30, compared with 37.6 percent last year.
The company confirmed its "growth objective" of at least 100 basis points by 2018 and margin growth of at least 200 basis points.
"We are at the end of this cycle and very confident in the future," Levy said in today's statement.
Publicis ad agencies won new business during the third quarter from brands including Puma, AstraZeneca, Sri Lanka Airlines and Nestle.
Levy last month delayed his long-mooted departure from the French advertising company, saying he will stay at least three more years after the management team was reshuffled.
Omnicom earlier this week said its organic sales for the third quarter rose 6.5 percent, driven by business in North America. Organic revenue at Interpublic Group of Cos., the fourth-largest advertising company behind Publicis, rose 6.3 percent, driven by the U.S.
Before it's here, it's on the Bloomberg Terminal.
LEARN MORE