pursuits
New York Farms Get Hoppy
Rows of hops are being planted in parts of the state where cows once grazed
By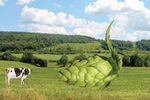 Strolling among rows of hops on a lush hillside in Cooperstown, N.Y., discussing soil quality and irrigation, Alicia and Louis Hager sound more like the farmers they've become than Busch beer royalty. The bines (that's not a typo; these climbers are not vines) that produce the conelike buds that give beer its flavor and aroma "are very thirsty plants," Louis says. "They need a constant supply of water."
The siblings, who are great-great-grandchildren of Anheuser-Busch founder Adolphus Busch, have started one of the largest of dozens of hop farms cropping up across upstate New York. In May they moved into a cottage on the 1,000-acre property that Busch bought from a hop farmer in the late 1880s. Their goal for the new venture, Hager Hops, is to write a new chapter in the family's beer saga, which looked to have ended with the sale of Anheuser-Busch to InBev, the world's largest brewer, in 2008. "This is as exciting as it gets—continuing a family tradition instead of living off past successes," Louis says. "We're starting from the ground level—very humble beginnings—and we're at the farm every day until the sun goes down."
Neither Louis, 30, owner of a juice bar in Florida, nor Alicia, 28, a personal trainer, had ever worked for Anheuser-Busch, but their father spent his entire career there. "Once we started throwing around the idea of growing hops and being closer to nature, we both jumped at the idea of making this a full-time job," Alicia says. The siblings had the trellis and irrigation systems for their 11 acres of hops installed but did the planting, weeding, and pruning themselves, with the help of a three-person staff. They plan to double their acreage next year after landing a two-year contract in March to supply nearby Brewery Ommegang, which turns out Belgian-style ales. They say they'll eventually use their hops to make craft beer of their own. They've already begun construction on a plant that will house a brewery and a tap room in Oneonta, 20 miles away.
In the 1880s, New York State was the country's No. 1 producer of hops. A mildew epidemic and Prohibition devastated the industry. Growers in Washington, Oregon, and Idaho ramped up production to fill the void and now account for 98 percent of the country's crop. Since 2010 the Empire State's hop acreage has jumped to 250 from just 15, according to Steve Miller of the Cornell University Cooperative Extension. Sparking the boom is a 2012 New York State law that allows craft breweries to sell beer by the glass on their premises, provided that 20 percent of the ingredients come from the state. (The proportion is set to rise to 60 percent in 2019 and 90 percent in 2024.) New York now boasts 105 microbreweries, up from 40 in 2011, and 66 licensed farm breweries. "Since the farm brewery legislation passed, there's been a lot of interest from people who want to start hops farms to support the breweries," says Samuel Filler, who heads New York's Craft Beverage Initiative, a state-led effort to promote local wineries, breweries, and distilleries.
New York hops fetch higher prices—$12 to $18 per pound—than those grown in the Pacific Northwest, which go for $7 to $13 per pound, according to Justin Riccobono, co-founder of Dutchess Hops, a four-acre farm in Lagrangeville. The taste of hops is influenced by the soil where it's grown, just as the taste of wine grapes differs by region. The New York terroir is characterized by citrus and spice, and farmers in the state are finding that local breweries and home-brewers will pay a premium for the taste and cachet.
An acre of hops yields about 1,000 pounds—meaning potential revenue of almost $20,000 a year, more than almost any other legal crop can generate. Corn and cotton fetch $700 an acre, and hay about $600, according to the Department of Agriculture. While hop farms of 100 acres or more are common in the Pacific Northwest, only a few growers in New York have even 10 acres.
The children of retired dairy farmers are turning to hop farming to reap income from swaths of unused land. "We saw hops as an upcoming industry based on the increase in local small breweries," says Liz Bunce, a human resources consultant who three years ago planted an acre of hops on her parents' defunct dairy farm in Oxford. "It's sort of our farm-succession plan." Last year, Michael Duheme put up 50 hop bines and five acres of barley on his parents' 175-acre dairy farm in Mt. Vision. This year he added 12 acres of rye, another ingredient used in beer. "We're looking at brewing grains and hops to utilize the land so it doesn't sit and go fallow," says the carpenter.

Harvest season, which begins in mid-August, is particularly hectic for the part-time farmers because few have mechanical harvesters, which cost about $50,000. Handpicking the hundreds of cones on a single hop plant takes about an hour. "All you have to do is pick them by hand for two hours, and you're definitely wishing you had a harvester," says Dennis Nesel, a Merrill Lynch financial adviser who enlisted his wife, daughter, son, and nephew to help pick the fruits of his one-acre hop yard in Germantown.
Demand is so strong that New York hop farmers can presell their entire crop before it's even harvested. Nesel had an exclusive deal to supply From the Ground Brewery, a new farm brewery in Red Hook. North River Hops & Brewing, a new brewery in Wappingers Falls, wanted to buy Riccobono's entire harvest, but he'd agreed to supply six other New York breweries. "We could have sold our harvest four times over," he says.
With demand for New York hops far outstripping supply, alliances are forming to share expensive equipment. The Hagers have a harvester, a pelletizer, and an oast (a kiln used to dry hops) that other farmers can rent. "We wanted to get all the machinery in the area so it could be a one-stop shop for hops and incentivize farmers to grow," Louis says. "We're going to be able to process people's hops, or we can buy it from them and find a brewer."
Before it's here, it's on the Bloomberg Terminal.
LEARN MORE