politics
Lobbyists Cash In on Ebola
More than dozen organizations have hired lobbyists on Ebola, some seeking cash while others just want to help.
By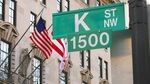 Not even Ebola is immune from the reach of Washington's K Street lobbyists.
At least 15 organizations, including drugmakers, hospitals and firms with technology to fight the deadly African virus, have reported lobbying the federal government in the last three months. For many, it's an attempt to cash in on a crisis that has already drawn more than $800 million from an otherwise skinflint Congress. "Crisis creates opportunity," said James Thurber, director of American University's Center on Congressional and Presidential Studies.
Others are trying to steer the money not into their own pockets, but where they think it's best used. U2 singer Bono's ONE campaign, for example, is lobbying to get funds to pay health-care and aid workers. Manpower for the outbreak's epicenter in West Africa should be the priority, said Tom Hart, ONE's U.S. executive director.
Congress has so far provided $88 million for drug research and the CDC and allowed the Pentagon to shift $750 million from its war budget to the Ebola mission.   "From my point of view, there's no money for Ebola in August, and then all of a sudden there's a billion," David Kilian, a lobbyist with Innovative Federal Strategies, said in a phone interview. "People are moving, here."
First in Line
At the front of the line is Zimek Technologies, an Orlando, Florida company that thinks it has just the thing to help the U.S. fight Ebola: an automated disinfecting system that can clean a hospital room in 45 minutes. Zimek in August hired lobbying firm Dentons U.S. LLP to talk up its equipment to Congress and officials at the Defense Department and the CDC. Zimek paid Dentons about $20,000 in the third quarter, according to a filing by the lobbying firm. "They don't want to see another nurse or other innocent citizens be contaminated, whether it be Ebola or any other deadly pathogen, by virtue of not using proper decontamination technology to help," Joe Mantilla, the Dentons lobbyist representing the company, said in a phone interview.
Kilian's firm represents Cerus Corp., a California-based company whose technology kills pathogens in blood products meant for transfusion — such as plasma that Ebola survivors donate to sick people in the hope that their antibodies may help fight off the virus. Cerus filed an application with the Food and Drug Administration on Oct. 20 seeking "compassionate use" approval for its technology in the U.S., Chief Executive Officer William "Obi" Greenman, said in a phone interview. He pays Kilian's firm to look for opportunities for research funding for his company. "To the extent they can help things move more quickly in the government, that's basically why we have a lobbyist," Greenman said. Cerus paid Innovative Federal about $20,000 in the third quarter, according to its disclosure, as the lobbyists worked on a defense spending bill and on the use of Cerus's technology to respond to Ebola and another exotic disease, chikungunya.
The Rest of the Crowd
Other companies lobbying on Ebola, according to disclosures, include: BioCryst Pharmaceuticals Inc., a North Carolina drugmaker; Alaska Structures Inc., which builds temporary shelter and medical facilities; Welch Allyn Inc., a medical diagnostic equipment maker based in New York; and Sarepta Therapeutics Inc., a Massachusetts drugmaker. Lobbyists for BioCryst and Sarepta didn't return phone messages. A spokesman for Welch Allyn's lobbying firm, Akin Gump Strauss Hauer & Feld, declined to make anyone available for an interview. Alaska Structures Inc.'s executive vice president for government programs, Gerrit Boyle, declined to comment.
Not all lobbyists are hunting for money. Marc Scheessele, director of government relations for St. Louis University, said he filed a disclosure listing Ebola as a lobbying subject after he offered the school's faculty as experts to members of Congress from Missouri. "There was a lot of misinformation out there at the beginning about how it gets spread," he said in a phone interview.
Two hospital systems, Sanford Health and Renton in South Dakota and Providence Health & Services in Washington, filed disclosures listing Ebola lobbying, as did the Greater New York Hospital Association. Lobbyists for Sanford and the hospital association didn't respond to requests for comment. Joel Gilbertson, a senior vice president at Providence who directs its lobbying, said in a phone interview the hospital system added Ebola to its disclosure form after telling members of Congress about a project that sent about $100,000 worth of surplus protective equipment to West African health workers. Providence hasn't sought money for any Ebola work, he said.
Bono's Campaign
Bono's group, the ONE campaign, is funded by private donations and doesn't seek taxpayer money, Hart said. He called the U.S. response "forceful" and said ONE is spending even more energy lobbying other Western governments including France, Canada and Australia that in ONE's view haven't stepped up. "There's a real urgent crisis in personnel," Hart said. "You can't deal with a kind of crisis like this when there's no place for people to go and the very people helping those getting sick are catching it and dying."
Zimek has sold more than 200 of its disinfecting systems to clients including the Department of Homeland Security, the company's chairman, Rob Theisen, said in a phone interview. The device, which fills a room or vehicle with disinfecting mist and then vacuums it out, costs about $60,000. A fire department in the Dallas area ordered 10 of the units after an ambulance that carried the first U.S. Ebola patient, Thomas Eric Duncan, to the hospital had to be taken out of service to be cleaned, Theisen said. Dentons is lobbying the government to recommend the Zimek equipment to aircraft makers and airlines, Theisen said, and also to influence new rules expected on protecting health-care workers and paramedics from infection.
"We want to be involved if we can have input into that," he said. "We want to make sure these folks are protected."
Before it's here, it's on the Bloomberg Terminal.
LEARN MORE