pursuits
L'Oréal Broadens Into the Multicultural Market
By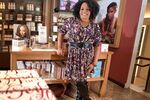 In a bid to reach a more diverse customer base, L'Oréal announced on Wednesday that it will acquire Carol's Daughter, a brand known for producing natural hair products for women of color. "It's an area that's underserviced," says Bloomberg analyst Deborah Aitken.
"I know I'll be with the right shepherd," Lisa Price, founder and president of Carol's Daughter, told fans in a video posted on Facebook. "[L'Oréal] will help to take what I've built and solidify it in its place in history and beauty. … I don't have to wonder if, 20 years from now, 30 years from now, will there still be a Carol's Daughter brand."
Founded in Price's Brooklyn (N.Y.) kitchen in 1993, Carol's Daughter announced the closure of five stores earlier this year as part of bankruptcy proceedings aimed to restructure the company financially. In the 12 months ended Sept. 30 the brand had net sales of $27 million, according to L'Oréal. "Carol's Daughter possesses an expertise in the multicultural consumer segment, a rapidly expanding market that represents an important growth opportunity in the beauty industry," Frédéric Rozé, chief executive officer of L'Oréal USA, said in a press release.
L'Oréal already owns ethnic hair-care brand SoftSheen-Carson, which it acquired in 1998. "They do have a lot of knowledge of that market," says Aitken, noting that most global companies still don't own any ethnic brands. In addition to hair products, Carol's Daughter also covers skin care.
In recent years, the range of available hair and cosmetics products has expanded considerably to suit a more diverse audience. New Lancôme foundations, for example, are now introduced with a minimum of 20 shades. Still, there's a long way to go. "The companies tend to stop at Kerry Washington," Aretha Busby, a stylist and the former beauty director of Essence magazine, told the New York Times. "I'd love to see brands go two or three shades darker."
L'Oréal, the world's largest cosmetics company, holds more than 35,000 patents and spends 3.7 percent of its revenue—more than $1 billion annually—on research and development, about twice the industry standard, says Aitken. That budget funds an army of more than 4,000 scientists working in about 50 countries, many of them looking to develop products targeted toward local consumers from diverse ethnic backgrounds.
Carol's Daughter will stay in its New York headquarters under the brand's current leadership team. "I know that my mother (Carol) is smiling," Price said in a statement.
Before it's here, it's on the Bloomberg Terminal.
LEARN MORE