A Mysterious Oil Tanker Might Hold the Key to Kurdish Independence
A mysterious oil tanker off the coast of Texas might hold the key to Kurdish independence
By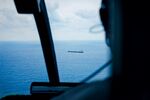 At any given time, the Gulf of Mexico is crawling with oil tankers, many of them delivering some of the 7.5 million barrels of foreign crude the U.S. imports each day. On July 23 a Greek-owned oil tanker named the United Kalavryta came around the tip of Florida and into the Gulf of Mexico. For the previous month, as it crossed the Atlantic, its destination had been Brazil. Now it was headed for Galveston, Texas, a gateway to some of the biggest refineries in the U.S. What made the Kalavryta special was that its cargo was from Kurdistan, the semiautonomous region in northern Iraq that boasts an estimated 45 billion barrels of oil reserves. The Kurds contend it's theirs to produce and sell as they choose. The government in Baghdad disagrees.
By the time the Kalavryta reached the edge of U.S. waters, the Iraqi government had filed a lawsuit in Houston federal court to block the tanker from unloading any oil. Iraq asked the U.S. to seize the ship's cargo and put out the word that anyone who buys or offloads oil from the Kalavryta would be charged with possession of stolen goods. A magistrate judge in Houston issued an arrest warrant and ordered U.S. marshals to seize the oil if the Kalavryta came into U.S. waters. Then, after the Kurds appealed the decision, a district judge named Gray Miller complicated matters. On Aug. 25 he ruled in favor of the Kurds, claiming he lacked authority to stop them from bringing their crude ashore. With the tanker's legal status still unresolved, and the Iraqis quickly contesting Miller's ruling, just before 5 a.m. on Aug. 26, the Kalavryta disappeared.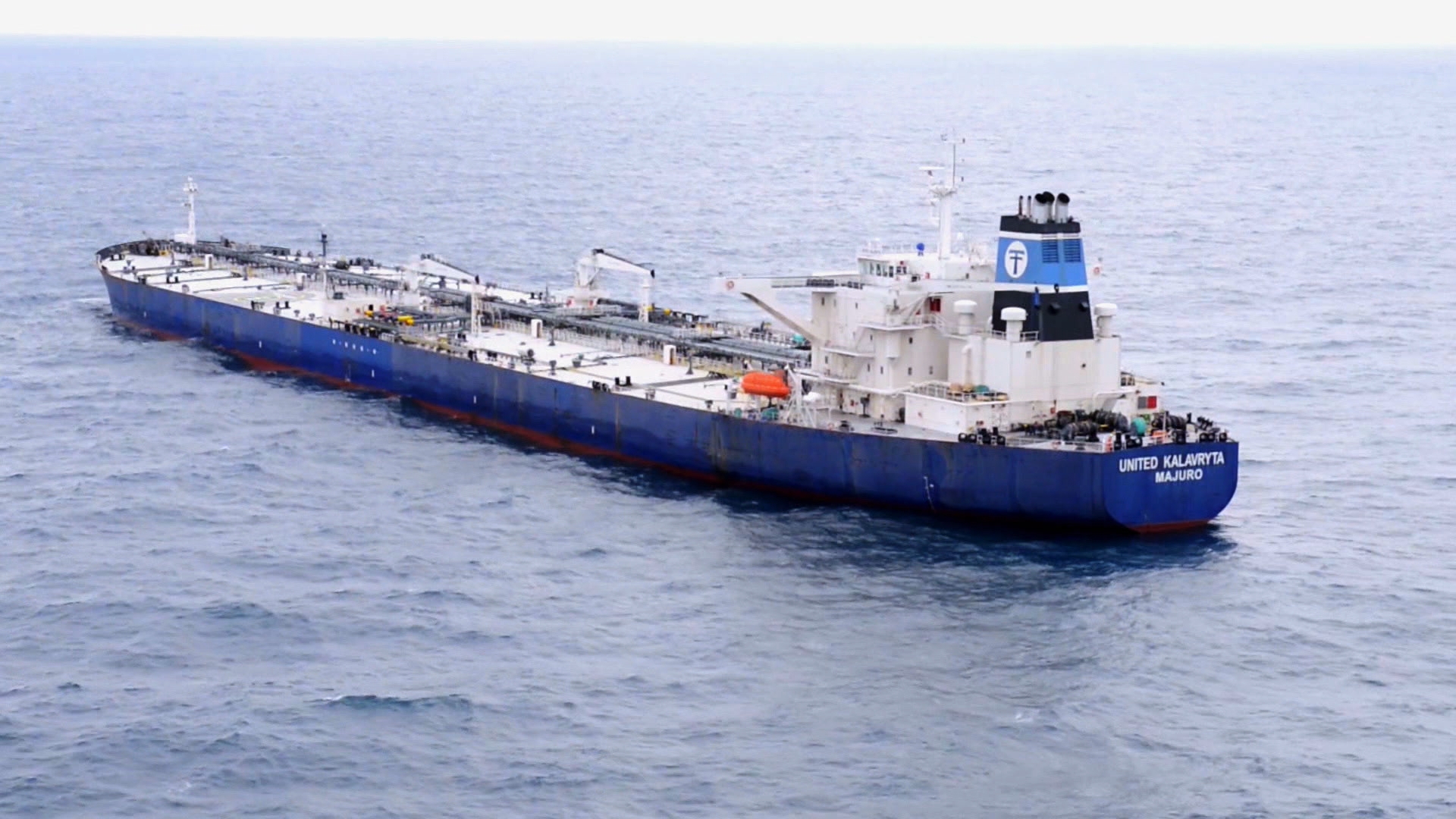 Landlocked Kurdistan is home to 5.2 million people, roughly 15 percent of Iraq's population. Since the U.S. invasion in 2003, Kurdish leaders have played a double game, holding high-ranking positions in Iraq's national government while also laying the foundation for an independent state. Kurdistan has its own parliament, president, and civil institutions. What it doesn't yet have is the right to sell on the open market the oil that lies beneath its soil. Under Iraqi law, Kurdistan is supposed to sell all of what it has through the national oil ministry. In return, Baghdad is obligated to give the Kurds 17 percent of Iraq's total oil revenue—about $1 billion a month. Some 95 percent of the Kurds' budget comes from Baghdad, which in turn gets 95 percent of its budget from oil sales.
With Iraq teetering toward anarchy in recent months, this arrangement collapsed. In February, after the Kurds started sending test batches of oil through a pipeline they built into Turkey, Iraq's then-Prime Minister Nouri al-Maliki cut off their funding, accusing the Kurds of violating the Iraqi constitution. Kurdish public employees went unpaid for months. Credit froze. Businesses went bankrupt. Kurdistan's thriving economy, ripe with foreign investment, ground to a halt; in addition, the Kurdish militia, known as the Peshmerga, is trying to prevent Islamic State fighters from overrunning Kurdish cities in northern Iraq. Only if they're allowed to export more of their crude, the Kurds contend, can they pay for the weapons and supplies the Peshmerga needs. Oil sales aren't just about financing Kurdistan's future independence; they're critical to the Kurds' survival.
In defiance of Baghdad, the Kurds have loaded more than 18 million barrels of oil out of the Turkish port of Ceyhan since May, according to data collected by Bloomberg. More than 13 million of those barrels are known to have been unloaded, either at a port or onto another ship. Although it's unclear what sort of prices they're fetching, the Kurds say that through September they made $1.3 billion from selling oil. And they appear to be getting better at it. Through the third week of October, the Kurds were loading an average of 200,000 barrels a day out of Ceyhan, three times their pace in July.

This poses a dilemma for the Obama administration, which is deeply invested in preserving Iraq's unity. Every drop of oil the Kurds sell undermines U.S. efforts to persuade Iraq's Shiite-led government to reconcile with the country's minorities. At the same time, the U.S. is relying heavily on the Peshmerga to halt Islamic State's advances on the ground. Representative Dana Rohrabacher (R-Calif.) has sponsored a bill that seeks to endorse the Kurds' right to sell oil, including inside the U.S. "We need to ensure the Kurds are a force substantial enough to counter [Islamic State], but right now we're trying to make them subservient to Baghdad," says Rohrabacher, who in 2009 sponsored legislation to establish a U.S. consulate in the Kurdish capital of Erbil, which opened in 2011. "Those are two contrary positions, and I don't think it strengthens America in that part of the world to be a juggler."
That's what makes the 900-foot Kalavryta the most important chess piece the Kurds possess: 1 million barrels of oil parked in the backyard of the world's biggest market. If they can establish the legal right to sell oil in the U.S., the Kurds will have gone a long way toward doing so everywhere else. That said, the Kurds don't appear to be waiting for the courts' permission. The example of the Kalavryta suggests they've already found a way to sell their oil: make it vanish.
 
 
Of the 25 tankers that have left Turkey loaded with Kurdish oil since May, 13 have gone dark—just as the Kalavryta did on Aug. 26. Most of the time this happens somewhere in the Mediterranean, either off the coast of Malta or Cypress or Israel, or sometimes only a few miles away from Ceyhan. Although it's not quite smuggling, "it's about as dicey as it gets on the open seas," says Charlie Papavizas, a maritime lawyer at Winston & Strawn, a law firm in Washington. "What the Kurds are doing is at the margins of the business, no doubt about that."
Rather than delivering oil directly from port to port and creating a public record of the shipment, the Kurds are instead transferring oil from tanker to tanker at sea, often at night and often after switching off the ship's electronic transponder that reports its position to satellites. When the transponder comes back on, the ship is usually miles away from its last known position and sitting higher in the water, which means its cargo is lighter. Shuffling the oil from ship to ship masks the ultimate buyer and makes it almost impossible to track. ClipperData, a New York-based company founded in 2012, uses customs data and ship-tracking information to follow the movements of tankers and estimate import volumes. Every time a ship docks in the U.S., Customs and Border Protection releases data on what it's carrying. "It's a real dog's breakfast," says Abudi Zein, ClipperData's co-founder and chief operating officer. "You have to separate the olive oil from the crude oil." ClipperData sells its information to about 50 clients, mostly oil traders and financial firms. The Kurdish ghost tankers have provided a particular challenge. "This is among the weirdest things we've ever seen," Zein says. "You feel like a submarine chaser."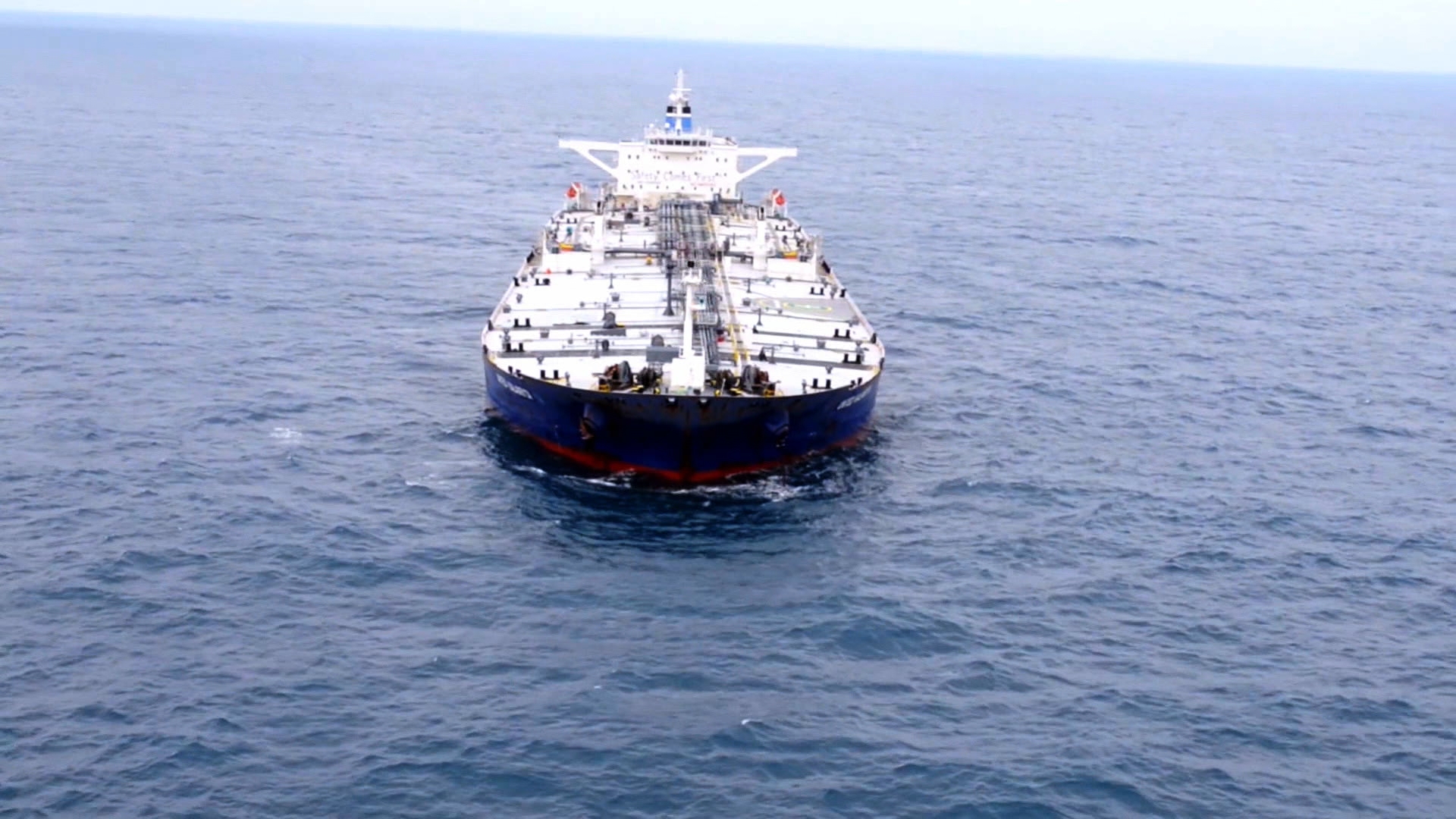 Once a ship's transponder goes off, detecting whether it's unloaded its cargo to another ship is a matter of being able to narrow down the handful of vessels that are in its vicinity. ClipperData has built algorithms that can tell when two ships get within a tenth of a mile, or about 500 feet. "When they're that close, they're either transferring the oil or they're crashing into each other," Zein says. ClipperData has tracked one shipment of Kurdish oil going to Croatia, where it was bought by MOL, a Hungarian company, to run its refinery there. Three shipments have been delivered to Israel, each containing roughly 200,000 barrels, Zein says. Because neither of Israel's two refineries is well-suited to process Kurdistan's heavy crude, "what we're now convinced of is that Kurdish crude is being stored in Israel," he says.
One ship in particular caught Zein's attention. On Aug. 2, about 15 miles off the coast of Malta, a tanker called the Genmar Strength suddenly got heavier, indicating some 200,000 barrels had been loaded onto it. At the same time, in almost exactly the same location, a ship called the Agisilaos unloaded the same amount of oil. The cargo was listed as a heavy crude consistent with Kurdish oil; it had been loaded onto the Agisilaos 10 days earlier at Ashkelon, Israel, while the ship's transponder was off, Zein says. The Genmar Strength immediately headed west across the Atlantic. On Aug. 19 it delivered about 200,000 barrels of cargo to an asphalt plant outside Philadelphia. The plant is operated by Axeon Specialty Products, a chemical and asphalt company owned by private equity firm Lindsay Goldberg. A shipment of similar heavy oil arrived at the same plant in June. Axeon has said it is not buying Kurdish oil until the dispute over the Kalavryta is settled. Lindsay Goldberg did not reply to requests for comment.
The Obama administration hasn't pressured other countries or refiners to avoid buying oil directly from Kurdistan, though diplomats have warned of the "legal jeopardy" involved in such purchases, according to a U.S. official who spoke on condition of anonymity. The best solution would be for buyers to wait while Iraq's central government and the Kurds come to an agreement over selling the oil, but it's not against U.S. law to buy it, the official said. For their part, the Kurds are determined to prove that there's at least illicit demand for their oil and that legitimate buyers do exist in the U.S.—which helps explain why the Kalavryta and its 1 million barrels ended up in the Gulf of Mexico, a few minutes from American shores.
 
 
Three days after it vanished, the Kalavryta reappeared, reporting the same cargo weight as before and sitting in roughly the same location in the Gulf. Zein and most other oil watchers are doubtful the Kalavryta unloaded anything. "It's way too risky," Zein says. "It's one thing to play games off the coast of Malta; it's another when you're off the coast of the U.S." Genscape, another energy intelligence firm that tracks oil flows, says a number of ships were in the vicinity of the Kalavryta while it was dark. At least one is a type used to transfer oil in the Gulf Coast. "It was a great opportunity [to transfer oil], but we can't prove it," says Molly Hislop, Genscape's communications director.

Iraq's original lawsuit in Houston district court lists two co-defendants: the Kurdistan Regional Government's Ministry of Natural Resources and "1,032,212 barrels of crude oil." On Sept. 16, Iraq amended its complaint to add a third defendant, John Doe Buyer. Both sides have assembled high-priced legal teams, with lawyers in Houston, Washington, New York, and Paris all working on the Kalavryta case. The Kurds have hired Chaffe McCall, the oldest law firm in New Orleans, and also Boies Schiller & Flexner, in D.C. and New York. One of the Kurds' top lawyers is Michael Gottlieb, who worked as President Obama's special assistant in 2009 and as associate White House counsel from 2011 to 2013. Gottlieb didn't respond to requests for comment.
The Kurds have plenty of friends in Washington. Less than a mile north of the White House, there's a skinny, three-story town house with two flags hanging outside: the red, white, and green of Kurdistan, and the red, white, and black of Iraq. This is the Kurdistan Regional Government Representation to the U.S. The office, adorned with marble floors, thick purple drapes, and a crystal chandelier over a plush gold couch, functions as Kurdistan's de facto embassy in the U.S. On the walls and on tables are pictures of Kurdistan's President Masoud Barzani, one of them with President Obama. Upon introducing himself, Karwan Zebari, the office's director of congressional affairs, offers refreshments: "Coffee, tea, water?" He laughs and jokes, "Would you like to buy some oil?"
Sitting in an office on the second floor, Zebari says potential buyers call regularly to ask about purchasing Kurdish crude. "There is interest out there," he says. "Believe it or not, the phone calls increased as the Kalavryta issues came up. Just yesterday I had a call from buyers in the U.S. Some of our biggest supporters both in the private sector and the U.S. government come from Texas."
Zebari acknowledges that the Kurds are essentially treating the Kalavryta as an investment, one they're willing to sacrifice in an effort to gain access to the U.S. Zebari then says the ship might have unloaded some of its oil after all: "It's my understanding that some of the oil has been delivered. Maybe 100,000 barrels or so."
Even if that's true, analysts suggest that most of the tanker's oil remains onboard. Oil prices have fallen 25 percent since it loaded in Turkey, meaning its cargo has lost $25 million in value. Basil Karatzas, a ship broker in New York, speculates the Kurds are paying as much as twice the $15,000 daily rate to lease the tanker from its owner, Marine Management Services. Tack on fuel costs of about $2,800 a day to burn through as many as 4 tons of diesel, and the Kurds have easily invested almost $3 million on the Kalavryta. "This does not appear to be the smartest move," Karatzas says. Some experts on the Kurds say they've taken far too big a gamble in trying to sell oil in this way. "It's put them in a huge bind, because they have proven that they can't sell their oil in a legitimate way," says Denise Natali, a senior research fellow at the National Defense University in Washington. "I think this whole operation has undermined their credibility."
The Kalavryta has cast a pall over the Gulf Coast. Oil traders don't like to talk about it and say that anyone would be crazy to buy its oil. "It's like it's been cursed," says Carl Larry, a former oil trader who runs Oil Outlooks & Opinions, a research firm in Houston. "It's like some creepy ghost ship. No one wants to touch it."
And so there it floats. In late September, from a small helicopter, the Kalavryta appears at first as a small speck amid a turquoise sea. Closer up, the tanker sits low and heavy in the water. Workers in orange and black jumpsuits walk the gray deck, checking on equipment along a series of pipelines and valves stretching down the middle of the vessel. The words "Safety Comes First" are emblazoned in large letters below the ship's white bridge. The only other ships in view are a small shrimp boat a few miles off the port side and another oil tanker transferring crude several miles in the opposite direction.
As the helicopter makes its first pass, a man on the bridge can be seen watching with binoculars. It's been two months since the ship's been to port. The helicopter makes contact by radio. "Of course, landing is not allowed, sir," the reply comes over a muffled transmission. It's the captain of the Kalavryta. Informed that a group of journalists has come to take photos and ask questions, he refers them to a representative onshore. Asked about the crew, the captain says nervously, "The crew is in excellent condition. No problem. We have everything here. Thank you very much."
— With assistance by Zain Shauk, Isaac Arnsdorf, and Indira Lakshmanan
Before it's here, it's on the Bloomberg Terminal.
LEARN MORE