Hong Kong Protests Turn DBS Wealth Deal Into Relocation Test
Sanat Vallikappen and Lars Klemming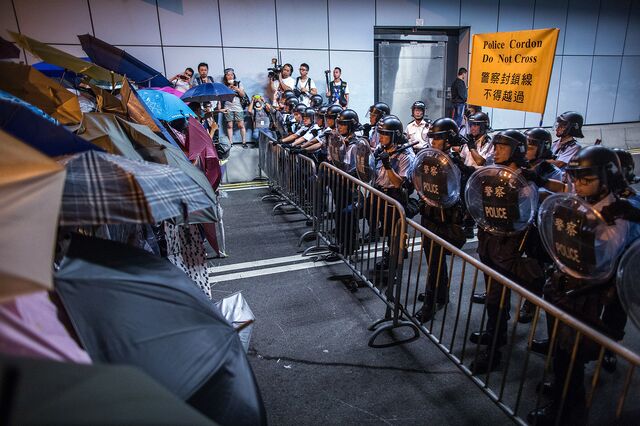 Tan Su Shan was in Singapore three weeks ago monitoring Hong Kong protesters through photos sent by her employees as she awaited an opening to move DBS Group Holdings Ltd.'s private bank into Societe Generale SA's offices.
Tan, DBS's head of wealth management, was under pressure to move the office in Hong Kong's Central district, including client account documents, before a planned announcement at the start of the week that the purchase of Societe Generale's Asian private bank was completed. As the streets cleared, she gave the green light at 5 a.m. Sunday morning on Oct. 5.
"We were afraid that if our staff go in, they can't come out," Tan, who also heads the bank's consumer banking, said in an interview in Singapore on Oct. 21. "If they can't go in, we also have a problem."
The nervousness over the move to a location less than half a mile away was fueled by Hong Kong's importance for DBS because the city accounts for almost a quarter of the lender's profit. DBS's private bank increased its assets under management by about S$13 billion to S$88 billion ($69 billion) when it completed the purchase of Societe Generale's wealth business in Asia, while it retained 80 percent of the French bank's relationship managers, Tan said.
DBS shares fell 0.4 percent to S$18.24 as of 12:36 p.m. in Singapore today, while the benchmark Straits Times Index dropped 0.4 percent.
Late-Night Photos
Ahead of the move, Hong Kong was bracing for more violence as sporadic clashes erupted between pro-democracy protesters and those opposed to their occupation of some of the city's busiest shopping and business areas. Images of riot police using tear gas and pepper spray in an attempt to clear demonstrators the previous weekend had drawn international focus to the student-led democracy movement.
At the protest stronghold of Admiralty, less than a mile from Societe Generale's private-banking offices, student leaders called for supporters to mass at 8 p.m. on Oct. 4. Having returned to Singapore two days earlier, Tan relied on pictures to assess the situation.
"People were going in in the middle of the night to take pictures for me," she said. "So they were going in on Thursday, Friday, Saturday morning and taking pictures of the road, because we were moving all our systems. They had to cart over all the clients' accounts and the systems."
DBS, Southeast Asia's biggest bank, said in March it agreed to buy the French bank's private-banking operations in Singapore and Hong Kong as well as "selected parts" of its trust business for $220 million.
Biggest Deal
The transaction was the biggest for Tan since the former Morgan Stanley and Citigroup Inc. private banker joined DBS in July 2010. The deal also helps DBS expand beyond the retail-banking operation in Hong Kong, which it built from a 2001 $5.4 billion acquisition of Dao Heng Bank Group Ltd.
DBS, which manages private-banking assets that are more than 90 percent Asia-based, operates in a region where the wealth of millionaires may top North America by 2015, according to an Oct. 21 report by Royal Bank of Canada and Cap Gemini SA.
The Asia-Pacific region's total population of millionaires increased 17 percent to 4.3 million, compared with a global growth rate of 13 percent, the report from RBC and Cap Gemini said. Their wealth expanded 18 percent to $14.2 trillion, compared with 12 percent for the rest of the world.
Different Banks
After moving into the Hong Kong offices of Societe Generale, Tan is working to ensure the integration of the two regional operations. "Of course there are going to be issues, it's two different banks," she said. "There'll be people issues, there'll be operational issues, there'll be logistics issues."
The DBS operations in Hong Kong were moved to Societe Generale's offices in The Landmark building, closer to the protest barricades, from The Center. One side of The Landmark faces on to a section of Des Voeux Road in the Central district that was closed at the height of the street occupation.
Almost a month after the start of the Hong Kong protests, student leaders and the government remain deadlocked over activists' demands for a freer process to elect the city's next chief executive in 2017. While the blockades closed some bank and retail branches, the disruption has been mostly shrugged off by the finance industry. Hong Kong Exchanges & Clearing Ltd. left its hours unchanged throughout the turmoil.
"This is not a revolution," Jim Antos, a Hong Kong-based analyst at Mizuho Securities Asia Ltd. said by phone today. "If you had mass social chaos, there would be bank runs because people would try to get their money out. There's nothing like that."
Plan B
Hong Kong will be "business as usual" when the demonstrations end and tourists return, according to an Oct. 16 report from DBS economist Chris Leung. Still, potential for further unrest remains until the causes of social divisiveness are addressed, he wrote.
As the demonstrations that started Sept. 26 escalated, "the second weekend was going to be worse, and that was our integration weekend," Tan said. "I didn't think we would be having to spend so much time on Plan B. We were rehearsing, rehearsing, rehearsing for Plan A to happen, but when this happened, we had to really seriously look at Plan B."
Back-up plans included space at One Island East for DBS and across the harbor in Kowloon for Societe Generale, she said. Plan B was never put in motion as a window opened up while protesters were resting.
"We were able to make our legal day one equal operating day one," Tan said. "By hook or by crook, we did it."
Before it's here, it's on the Bloomberg Terminal.
LEARN MORE