The GDP Walks the Red Carpet
What happens when Hollywood directors explain debt reduction
By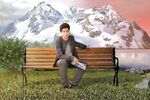 Since the recession, a tiny media industry has been dedicated to educating us about the economy: NPR's Planet Money podcast, Michael Moore's Capitalism: A Love Story, and the Freakonomics blog, podcast, and book sequels. On Oct. 21, Microsoft co-founder Paul Allen joined the party as his Vulcan Productions released a series of 20 shorts called We the Economy. Curated by director Morgan Spurlock, it features the work of filmmakers Catherine Hardwicke (Twilight), John Chu (G.I. Joe: Retaliation), Steve James (Hoop Dreams), and Adrian Grenier (er, Adrian Grenier), among others.
The five- to eight-minute films are being shown on Netflix, Amazon.com, Funny or Die, iTunes, AOL, Hulu, Yahoo!, and YouTube. Allen "really wanted something that helped consumers think about unemployment or inflation or debt—things they see every day and don't really understand," says Carole Tomko, Vulcan's general manager.

Sensing an opportunity to both exert creative control and feel important, filmmakers eagerly signed on. Adam McKay (Anchorman) co-wrote two of the films, after getting hooked up with the venture by Planet Money co-creator Adam Davidson, a consultant on the project. "I've always had an amateur interest in economics, mainly through my political interests. More and more when you read about politics, it leads you toward economics," McKay says.
His animated My Little Pony parody (voiced by Amy Poehler, Andy Richter, Maya Rudolph, and Sarah Silverman) does an entertaining job of explaining income inequality. But economics is harder to teach than, say, politics, because it's a messy mix of psychology, opinion, and math. Also, when you empower Hollywood types with the task of doing something significant, they tend to get self-righteous. The liberals, predictably, get the better of the conservatives.

The most successful shorts take simple ideas and show how they lead to great complexity, such as That Film About Money, by Good Machine co-founder James Schamus. He explores leverage, starting with the premise that banks don't hold your money, and ultimately explains that money is nothing more than a fragile trust. Street Fight director Marshall Curry's Amazing Animated Film About the Debt & Deficit has a surprising amount of fun breaking down the argument between John Maynard Keynes and Friedrich Hayek, the safe boundaries of a country's debt-to-gross-domestic-product ratio, and the political friction in debt-reduction solutions. Although Ramin Bahrani's Lemonade War doesn't provide the nuance of the Carmen Segarra tapes, there isn't a more amusing way to learn about regulatory capture than seeing a righteous Werner Herzog berate robber baron lemonade stand owner Patton Oswalt. And a short by the Pilobolus dance company demonstrating a recession doesn't teach much at all, but it's awfully pretty.

Perhaps these opinionated films are a better way to inform the voting public about economic issues than the strictly educational ones Allen originally commissioned. Davidson says he tried to create a nonpartisan economics podcast when he made Planet Money. Then he learned better. "There is no such thing as economics devoid of opinion," he says. "There's a handful of buckets: economically accurate, engaging, and important public policy. They're at odds with each other. The joke is that there's everything we know for sure in economics and everything in economics that matters."
Before it's here, it's on the Bloomberg Terminal.
LEARN MORE