Goldman, Citigroup Wary of Ergen as He Mulls T-Mobile Bid
Alex Sherman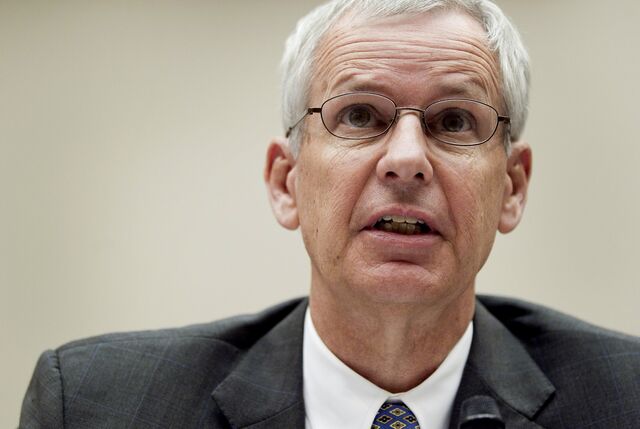 Dish Network Corp. co-founder Charlie Ergen likes to say his corporate strategy is all about "optionality." Wall Street banks also have options -- and, for some, working with Ergen isn't on the top of their list.
Goldman Sachs Group Inc., Citigroup Inc. and Wells Fargo & Co. all view the 43rd-richest man in the world as a client of last resort when it comes to deals, people with knowledge of the matter say. The banks are turned off by his willingness to back out at the last minute -- as he did with a 2007 sale to AT&T Inc. and a 2007 purchase of Sirius XM Holdings Inc. -- and his hard-nosed negotiating over fees and deal terms.
The issue is pertinent again as Ergen contemplates bidding for T-Mobile US Inc. Dish, the second-largest U.S. satellite-television company, has told Deutsche Telekom AG, T-Mobile's controlling shareholder, that it would be interested in purchasing the U.S.'s fourth-largest wireless-service provider, people familiar with the matter have said.
"He's certainly got a reputation as a tough negotiator, but it cuts both ways," Craig Moffett, co-founder of MoffettNathanson LLC, who has covered Ergen's companies as an analyst for more than 15 years. "It tends to breed loyalty from his shareholders, but he's burned a lot of bridges with negotiations in the past."
The people who spoke for this story asked not to be identified discussing private information.
Ergen declined to comment through Dish spokesman Bob Toevs. In August, the 61-year-old, who has a net worth of almost $17 billion, said "maybe" when asked during a conference call if he will bid for Bellevue, Washington-based T-Mobile.
No Thanks
The decision not to work with Ergen is partly a result of conflicts of interest: Goldman, Morgan Stanley, Citigroup, Bank of America Corp. and JPMorgan Chase & Co. have all worked with competitors to Dish, such as Comcast Corp., DirecTV, AT&T, Verizon Communications Inc. and SoftBank Corp.
Still, five of the top six deal advisers this year -- Goldman, Morgan Stanley, Citigroup, Bank of America and JPMorgan -- haven't worked with Dish on an acquisition since at least 1998, according to data compiled by Bloomberg.
During that period, Ergen has undertaken several transactions or entered bids on deals, employing Lazard Ltd., UBS AG, Barclays Plc and Deutsche Bank AG for the largest of them. Among big banks, Deutsche Bank is closest to Ergen, operating almost as the company's house bank, one person familiar with the matter said.
Even the German bank may find itself conflicted when it comes to T-Mobile, thanks to its relationship with Masayoshi Son -- the billionaire founder of SoftBank. Son has competed with Ergen on deals in the past and is also interested in acquiring T-Mobile.
Representatives for Goldman, Morgan Stanley, Citigroup, Bank of America, JPMorgan, Wells Fargo and Deutsche Bank declined to comment.
Ergen's Loyalty
Wall Street's royalty can often choose sides and it's not a coincidence Ergen hasn't been their top choice. He is a difficult negotiator on fees paid to banks, pushing to pay as little as possible, four people said.
He's also loyal, which is why he has had a long relationship with Deutsche Bank, two people said. Some of the fear of working with Ergen comes more from mythology than reality, because many bankers haven't worked directly with him, one of the people said.
While Dish hasn't disclosed recent M&A fees, the Englewood, Colorado-based company paid bond underwriting fees of 0.2 percent to 0.5 percent on recent offerings of more than $1 billion, significantly less than the average of about 1.5 percent, according to research firm Freeman & Co.
He also has a reputation for being mercurial on deals, sometimes asking for last-minute changes after initially agreeing to a transaction, two of the people said. These requests -- sometimes even after an agreement is in place -- have scuttled several large deals.
Banker Chagrin
About seven years ago, when Dish was still called EchoStar Communications Corp., Ergen had a handshake agreement to sell the company to AT&T, according to people familiar with the matter. Before the deal was signed, Ergen asked for a non-standard provision to be added in the transaction, causing the takeover to break down to the chagrin of the bankers working on it, the people said.
In early 2009, Ergen was close to a deal to acquire a stake in Sirius until he pushed for 51 percent of Sirius's equity, one of the people said. Sirius was willing to sell him 49 percent, which would have given Ergen effective control of the company.
Malone's Move
Weeks later, John Malone's Liberty Media Corp. bought only 40 percent of the company. Since the deal was announced in February 2009, Sirius shares have jumped to $3.33 from about 10 cents, a gain of more than 3,200 percent.
Brad Burns, a spokesman for AT&T, declined to comment while Patrick Reilly, a spokesman for Sirius, couldn't immediately be reached for comment.
Ergen's tactics have sometimes landed him in court. When he rescinded his bid to acquire Philip Falcone's LightSquared Inc. out of bankruptcy earlier this year, Falcone accused Ergen in court papers filed in July of "wrongfully and deceptively" creating "chaos in the bankruptcy proceedings." Ergen claimed he pulled his bid due to a "technical issue." The suit is pending in a federal court in Colorado.
'Vexatious' Behavior
Dish's battle with TiVo Inc. over patent infringement took seven years to settle, finally ending in 2011. EchoStar and its attorneys were sanctioned three separate times by federal judges from 2004 to 2006, including "unreasonable and vexatious" behavior in a contract dispute with a programmer, according to the Denver Post.
As Ergen considers going after T-Mobile, even his longstanding relationship with Deutsche Bank isn't assured. For the German bank, financing for a Dish bid could burn a bridge with another potential source of advisory fees, Softbank's Son.
Ergen might irk Son by pursuing T-Mobile because Japan's SoftBank owns 80 percent of wireless carrier Sprint Corp., which Son tried to merge with T-Mobile. Frankfurt-based Deutsche Bank had agreed to help fund that bid.
Son has shown he will punish a bank for actions he deems hurtful to his company. After Barclays advised Ergen on his competing bid for Sprint in 2013, driving up the price tag, Son pressed Alibaba Group Holding Ltd. to stop working with the British bank, according to people familiar with the matter. SoftBank is Alibaba's largest shareholder, with nearly one-third of the company.
Son's Sprint also shut out Barclays from funding its scrapped bid for T-Mobile. SoftBank is currently considering buying assets around the world, including Grupo Iusacell SA in Mexico and U.S. film studio Dreamworks Animation SKG Inc., people with knowledge of the matter have said.
Like other banks, Deutsche Bank has a complex business selection process that it would use to decide whether or not to advise Ergen, if it is asked to, a person said.
Gambling Man
Dish's shares have gained about 225 percent over the past five years -- nearly triple the performance of the Standard & Poor's 500 Index in the same time period. More than $10 billion of the company's $27.5 billion market value is tied up in unused wireless spectrum, Moffett estimates.
Ergen acquired the spectrum for $3 billion in 2012 through his acquisitions of TerreStar Network Inc. and DBSB North America Inc. The value skyrocketed after Ergen successfully petitioned the U.S. government to allow the spectrum to be transformed into airwaves used for mobile voice and data.
The gambit on spectrum may limit Dish's appeal as a takeover target, pushing banks further away from him and casting doubt on the company's true value, Moffett said. AT&T chose to acquire DirecTV instead of Dish earlier this year, in part because of Chief Executive Officer Randall Stephenson's concerns that regulators wouldn't allow the second-largest U.S. wireless provider to use the Dish spectrum because of concern about competition, according to people familiar with the matter.
'Drunken Fools'
Dish's most logical buyer, Verizon, would face the same regulatory challenges to use that spectrum, Moffett said. Ergen doesn't agree that Dish's options are limited.
"When I used to play poker, and everybody was throwing chips around and betting crazy on the table, and I had really good cards, I always felt it was better just to sit back and watch them go at it," he said during a conference call in May. "When a bunch of drunken fools were throwing money around, occasionally I was able to pick up a pot at the end of the day."
The government auction of wireless spectrum later this year puts Ergen in territory he's used to: keeping people guessing. If he bids for the spectrum, competitors can't be sure if he really wants it to expand his wireless system, or if he just wants to push up the value of the spectrum Dish already owns.
"The government will be very happy if people show up and bid more money," said Tim Farrar, founder of Telecom, Media & Finance Associates Inc., a Menlo Park, California-based research firm. "But if Dish is bidding just to drive up the price, AT&T and Verizon should call his bluff and stick him with billions of dollars of additional spectrum, and see how his investors like that."
Before it's here, it's on the Bloomberg Terminal.
LEARN MORE