pursuits
Sales Slowdown Greets the Huge Wave of New Dunkin' Donuts Locations
By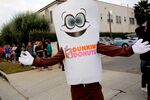 Dunkin' Donuts is having a sorry year of rapid growth.
By the end of 2014, the chain will have added 380 to 410 new restaurants in the U.S.—yet its existing restaurants have barely gained in sales. Dunkin originally expected same-store sales to increase at least 2 percent for the year, a mark that would have been below last year's 3.4 percent rate. But as the year winds down, the company now says even meeting this target "will be a challenge."
New Coolatta and coffee flavors helped increase Dunkin's beverage sales last quarter, and breakfast sandwiches and hash browns did well, too. But the company faces two significant headwinds: competition and fast-food diners who are spending less at restaurants.
"I'm concerned about the consumer," said Dunkin' Brands Chief Executive Nigel Travis during Thursday's earnings call. "I really think the consumer is in a strange place. I was thinking about that this morning. I'd like to think that they were going to be encouraged by gas prices going down. That doesn't seem to have happened to anyone yet."
Low gas prices certainly haven't helped fast-food competitor McDonald's, which this week reported disappointing third-quarter results, including a 3.3 percent drop in U.S. comparable store sales.
As for competition, the coffee and doughnut chain is getting pinched by Taco Bell and Chick-fil-A, both of which are working to expand into Dunkin's breakfast domain. "They're all attracted by the growth of the [breakfast] segment," Travis said.
Dunkin's excuses for this year's performance are undermined to some extent by the relative success of such breakfast-heavy rivals as Starbucks, which continued to thrive last quarter. Chipotle Mexican Grill, which has higher prices and higher-income consumers, is wrapping up a super year. Could Dunkin' benefit from going upscale?
Not happening. "The strength of the Dunkin' positioning is that the appeal of the brand is very, very broad," said John Costello, Dunkin' Brands' president of global marketing and innovation. "So we kind of crossed all demographic segments."
Dunkin' Donuts will continue to expand into Western states, where the brand maintains a clear appeal depsite current sales trends. The first location in Southern California managed to attract a remarkably long line last month. Dunkin' now has more than 7,900 locations in the U.S., and Travis says there's room for at least 9,000 more.
Before it's here, it's on the Bloomberg Terminal.
LEARN MORE