politics
Democratic Mastermind Explains How Party Will Retain Senate Majority
The executive director of the Democratic Senatorial Campaign Committee is anything but doom and gloom about his party's chances in the midterms.
By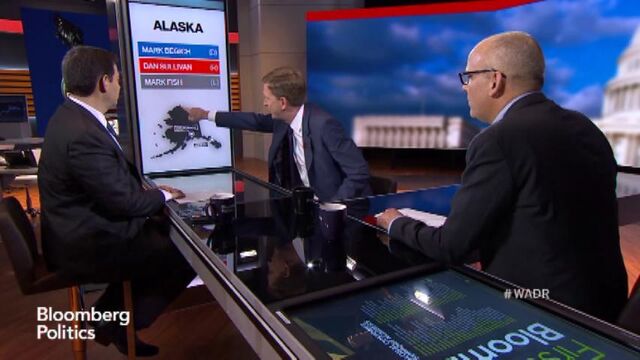 To hear Guy Cecil tell it, the midterm elections are shaping up nicely for the Democratic Party. Appearing on "With All Due Respect" on Thursday, Cecil, the executive director of the Democratic Senatorial Campaign Committee, assured hosts Mark Halperin and John Heilemann that the party would defy expectations and likely win senate races in Iowa, Colorado, Louisiana, Alaska, New Hampshire, North Carolina, Arkansas, Georgia and Kentucky. 
Moreover, Cecil, who has helped guide the Democrats through three of the last four elections, says that the Republican narrative that President Obama's low approval ratings will end up sinking many of his party's senate candidates is flat wrong. 
Asked what the headline will be on Nov. 5, a confident Cecil replied, "That Democrats retain the majority."
Like DNC Chairwoman Debbie Wasserman Schultz, part of Cecil's job is to convince people that the glass is half-full for Democrats, but the man who also helps decide which races receive funding did offer some interesting insight concerning some of the most-watched Senate contests in the nation. 
Colorado
Though Senator Mark Udall has fallen behind Republican challenger Cory Gardner in recent polls, Cecil pointed to the mail-in ballots as a potential deciding factor. 
"Two important things. First off is that it's the first time everybody gets a ballot in the mail. Better for Democrats, when we have more voters [we] win," Cecil said, adding that he expects to see turnout rise to over two million votes as a result. 
Arkansas
If Senator Mark Pryor survives a strong challenge from Republican Tom Cotton, he can thank Bill Clinton and the DSCC, which has registered an impressive number of African American to vote.  
"We've registered 95,000 new African Americans in Little Rock, Pine Bluff, all along the western part of the state," Cecil said of a state many considered written off by the party. "We think we're going to be successful by increasing their turnout, and Bill Clinton has been all over the state, which is great for the entire ticket."
Louisiana
Cecil sees the chance that Senator Mary Landrieu will earn 50 percent of the vote, thereby avoiding a runoff election. The reason? Democrats have worked hard to register African Americans. 
"I do think we have a chance to hit 50," Cecil said. "If you look at the early vote numbers today, the African American vote during the early vote, highest it's ever been. And, unlike what most people think, we have the largest number of African Americans registered, over 900,000 more than pre-Katrina."
Alaska
Calling it the "strangest" race in the nation, Cecil said that Senator Mark Begich would win reelection over Republican Dan Sullivan thanks to the party's efforts to mobilize the Native American community. 
"We're going to win because we are going to turn out some of the most disenfranchised people in our country. ... We are going to turn out the native vote, it's going to bigger than in the presidential election."
North Carolina
According to Cecil, Senator Kay Hagan is not in danger of losing her seat to Republican Thom Tillis. 
"Our polls have basically stayed at about four, five points [favoring Hagan] over the course of the last six weeks," Cecil said. "She's had a steady and persistent lead throughout the last six months, really."
Furthermore, Cecil pointed to the coalition that Hagan was putting together in North Carolina as a model for party nationwide. "This is the emerging coalition of the Democratic party: Hispanics, African Americans, young people," Cecil said.  
Iowa
They key to a Bruce Braley victory over Republican Joni Ernst, Cecil argued, was signing up new voters in Iowa. 
"We are dominating [with] people that did not vote in 2010," Cecil said. "Right now we have a 22 point lead with people who did not turn out in 2010 and are turning out today. All of the Republican vote, all of the Republican vote are people that voted in 2010."
New Hampshire
Polls vary on whether former Massachusetts Senator Scott Brown is closing on New Hampshire Senator Jeanne Shaheen in his effort to represent a second state in the U.S. Senate, but Cecil disputed any such change. 
"Our last internal poll had us up five points, and Shaheen has never been below 50 in our internal polling," Cecil said. 
Georgia
In a pleasant surprise for Democrats, Michelle Nunn has mounted a strong campaign against Republican David Perdue, portraying him as an outsourcer of jobs. According to Cecil, winning the state will come down to turning out the African American vote.
"We've got to make sure we maximize our vote in [the] Atlanta suburbs and city, and South Georgia," Cecil said. "I think we're going to outperform what most Democrats have over the course of the last two weeks of the election."
Kentucky
The race between Senate Minority Leader Mitch McConnell and Alison Lundergan Grimes is shaping up to be a squeaker, and the DSCC has reversed its decision to stop running television ads in Kentucky. 
"I think it's a toss-up," Cecil said. "We're going to maximize the vote in Louisville and make sure that those undecideds who do not like McConnell have no reason to like McConnell."
Lest you think that Cecil is incapable of anything other than partisan spin, he did concede that South Dakota Democratic Senate candidate Rick Weiland is trailing, and did not offer a scenario by which he would come out on top. 
Before it's here, it's on the Bloomberg Terminal.
LEARN MORE