Dana Carvey's Obama Impression Is an Instant Classic
The man who mastered George H.W. Bush and then George W. Bush unveiled his latest president on Conan O'Brien's show.
By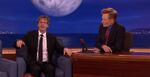 Everyone's got an impression of President Obama. OK, a lot of people do. A guy named Reggie Brown has gotten thoroughly Internet famous with one. But that was before the greatest presidential impersonator alive stepped forward with his own. On Conan O'Brien's show on Wednesday, Dana Carvey came, he saw, he claimed what was his all along: the championship belt for best Obama impression. 
[Via Vanity Fair]