Credit Suisse Sees Mixed Start to October on Volatility
Jeffrey Vögeli and Elena Logutenkova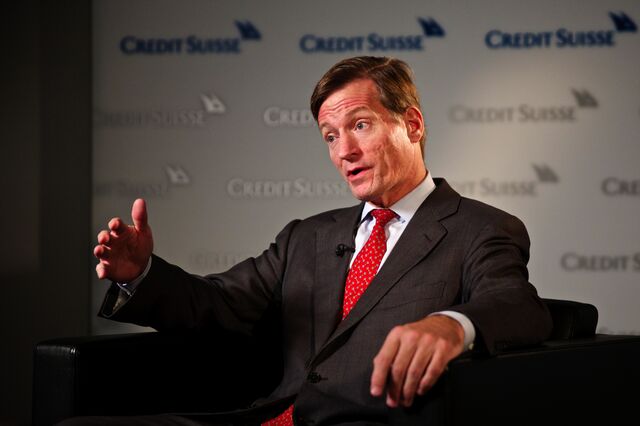 Credit Suisse Group AG, Switzerland's second-biggest bank, said it had a "mixed" start to this quarter after a rebound in trading helped lift earnings in the three months through September.
While volatility in the markets this month has benefited trading businesses, it hurt the bank's underwriting units and probably made private banking clients more cautious, Chief Executive Officer Brady Dougan told analysts and journalists on a conference call.
Zurich-based Credit Suisse reported that net income more than doubled to 1.03 billion Swiss francs ($1.08 billion), beating analyst estimates, on higher earnings at the investment bank. Profit in the private-banking and wealth-management division fell 7.4 percent to 943 million francs on lower revenues.
Dougan, 55, reiterated plans to focus on wealth management, which he plans to expand through acquisitions and by growing funds. Credit Suisse will also speed up asset reductions at the investment bank to improve the bank's leverage ratio as Swiss regulators prepare to review capital and leverage rules for the country's biggest banks next year.
"Credit Suisse's fixed-income, currencies and commodities unit is very credit geared, which, in a potentially increasing interest-rate environment, is not the ideal business mix," Kian Abouhossein, a London-based analyst at JPMorgan Chase & Co. said in a note. He has an underweight recommendation on Credit Suisse.
'Increased Volatility'
Credit Suisse shares fell 1.3 percent to 24.72 francs at 1:40 p.m. in Zurich trading. They have decreased about 9.3 percent this year, while UBS AG, Switzerland's biggest bank, have dropped 7.8 percent.
"The increased volatility and volumes have certainly benefited some parts of the business, particularly those that are more on the trading side," Dougan said about outlook for this quarter. "Underwriting businesses have clearly been sort of put on the back-burner. There is a lot of business in the pipeline to execute, so the question will obviously be whether or not the markets will reopen."
Profit at the investment bank more than doubled to 516 million francs in the quarter as revenue from fixed-income trading rose 73 percent to 1.44 billion francs, helped by securitized products and emerging-markets businesses. Equities revenue was stable at 1.07 billion francs.
Amine, O'Hara
"A strong month of September saved the quarter and led to a good third-quarter investment banking result," Andreas Venditti, an analyst at Vontobel Holding AG with a hold recommendation, said in a note to clients. Performance of the investment bank "is strongly dependent on -- sometimes erratic -- mood swings of the financial markets."
The five biggest U.S. securities firms saw their combined revenue from trading fixed income, currencies and commodities rise 14 percent in the third quarter from a year earlier, data compiled by Bloomberg Intelligence show.
Credit Suisse on Oct. 17 named Jim Amine and Tim O'Hara co-heads of the investment banking division, joining Gael de Boissard in that role. Eric Varvel, who helped oversee the unit for five years, stepped down from the executive board and assumed the role of chairman for the Asia-Pacific and Middle East regions. The promotions boost the influence of the securities unit within the executive board.
The appointments are "mostly just about continuity," and do not represent any change in the company's strategy or the approach to managing the investment bank, Dougan said on the conference call.
Asset Reductions
The company accelerated the plan for asset reductions and said cuts at the investment bank will allow it to achieve its long-term target for bringing down leverage exposure to about 1.05 trillion francs by the end of next year from 1.19 trillion francs in the third quarter.
The reductions will bring the bank's total capital leverage ratio under Swiss rules to about 4.5 percent by the end of 2015 from 3.8 percent at the end of September. Leverage exposure has already been cut by about 15 percent from 1.4 trillion francs at the end of September 2012.
Credit Suisse plans to make about 70 billion francs in business asset reductions, of which about 26 billion francs relate to the cuts in the macro business, which includes foreign exchange and rates businesses, that have already been announced, Chief Financial Officer David Mathers told journalists on a conference call today. He declined to say what other businesses may be cut.
Credit Suisse's wealth management unit, which added 5.1 billion francs in net new money in the quarter, posted a decrease in its gross margin, which measures how much revenue the bank makes on assets under management, to 97 basis points from 99 basis points in the second quarter. A basis point is one hundredth of a percentage point. Profit at the unit, which excludes businesses the bank is exiting, rose 5 percent to 536 million francs as costs fell more than revenue.
Wealth Management
"Trends in wealth management continue to weaken," said Dirk Becker, a Frankfurt-based analyst with Kepler Cheuvreux who rates the stock hold. "The gross margin and net new assets were the biggest disappointments there."
Dougan said that while market swings lead to some adjustment of portfolios of the private-banking clients, "it also does, I think, lead people to feel a little bit more conservative and a little bit less opportunistic about the transactional side of the business."
Credit Suisse still relies more on its investment bank than local competitor UBS. While UBS has shrunk its securities unit to focus on managing money for the wealthy, Credit Suisse plans to allocate an equal amount of capital to the investment bank and to the money-managing businesses.
Julius Baer
Analysts and investors have said Credit Suisse should step up efforts to focus more on wealth management. This could help boost returns and shore up capital, where the bank lags behind its main competitors after paying a fine of $2.6 billion in the second quarter for helping Americans evade taxes.
Dougan declined to comment on what he called "rumors" when asked about reports that Credit Suisse has considered buying Zurich-based Julius Baer Group Ltd.
"We think that organic growth looks great," Dougan said in an interview with Bloomberg Television. "We also think there will probably be smaller consolidation opportunities over time and that's really what we're focused on."
The corporate and institutional clients unit posted a 4.4 percent decline in third-quarter profit to 240 million francs, while earnings in asset management doubled to 96 million francs.
Before it's here, it's on the Bloomberg Terminal.
LEARN MORE