Billionaire Allen Increases Ebola Pledge to $100 Million
Brendan Coffey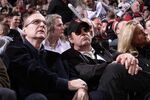 Paul Allen increased his pledge to combat Ebola to $100 million today as technology billionaires flock to fund programs seeking to control the spread of the disease.
The money will be used to make and develop two medevac containment units that can be used by the U.S. government to evacuate doctors and nurses from West Africa, according to a statement. He also is donating money to the University of Massachusetts Medical School for training and lab equipment in Liberia.
"The Ebola virus is unlike any health crisis we have ever experienced and needs a response unlike anything we have ever seen," Allen said in the statement. "To effectively contain this outbreak and prevent it from becoming a global epidemic, we must pool our efforts to raise the funds, coordinate the resources and develop the creative solutions needed to combat this problem."
The 61-year-old has a $17.1 billion fortune, according to the Bloomberg Billionaires Index. He co-founded Microsoft with Bill Gates in 1975.
Allen's pledge was first reported by the New York Times.
Prime Minister David Cameron urged fellow European Union leaders to increase their spending on tackling Africa's Ebola outbreak, pointing out that 18 of them have pledged less than the amount donated by the furniture group Ikea of Sweden AB.
Gates, Zuckerberg
The Ikea Foundation has given Medecins Sans Frontieres a 5 million-euro ($6 million) grant to fund the treatment of victims. That's more than the donations from countries such as Austria, Poland and Spain, according to a British official who asked not to be identified discussing government policy.
Ikea, the world's largest furniture retailer, is controlled by billionaire Ingvar Kamprad.
The Bill & Melinda Gates Foundation said last month it will commit $50 million to support emergency efforts to contain the Ebola outbreak in West Africa and interrupt transmission of the virus.
The foundation said it will release funds to United Nations agencies and international organizations involved in the response to enable them and national governments to purchase supplies and scale up emergency operations in affected countries.
Facebook Inc. co-founder Mark Zuckerberg and his wife Priscilla Chan donated $25 million last week to the U.S. Centers for Disease Control's nonprofit arm to help the cause.
Bellevue Patient
The grant from Zuckerberg and Chan's donor-adviser fund at Silicon Valley Community Foundation is for the CDC's Ebola response in the three West African countries most affected and "anywhere in the world where Ebola poses a threat to health," according to an e-mailed statement from the CDC Foundation.
A New York resident is being tested for a possible case of Ebola at Bellevue Hospital Center. Paramedics brought the patient in with a fever and gastric distress, according to a city news release. The person is a health-care worker who returned from an Ebola-stricken country within the past three weeks.
Before it's here, it's on the Bloomberg Terminal.
LEARN MORE