Basketball Star Who Went Bankrupt Wishes He'd Gotten an MBA
The Boston Celtics power forward, who filed for bankruptcy in 2010, says athletes need more business education.
By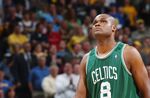 Former Boston Celtics player Antoine Walker was just 19 years old in 1996, when he was drafted by the NBA. Flashy endorsements and multimillion-dollar contracts followed. He'd "never have to worry about money again in his life," then Celtics coach Rick Pitino said when Walker inked a $71 million deal with the team a few years later.