American Express and Visa Love Apple Pay. Will Consumers?
By and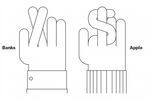 One of the least heralded events at Apple's Sept. 9 unveiling of the iPhone 6 and 6 Plus was its primer on Apple Pay. In an eight-second video, a woman holding an iPhone next to the credit card reader at a checkout counter placed her thumb over her phone's Home button, which doubles as a fingerprint scanner. The device binged: transaction complete. "Would you like to see it one more time," Apple Chief Executive Officer Tim Cook asked from the stage, "just in case you may have blinked and missed it?"
Simplicity is Apple's pitch as it leaps into mobile payments, which Forrester Research estimates will total $31 billion this year and $90 billion in 2017. So far Square, Google, and Softcard—a wallet app backed by the three largest U.S. wireless carriers—have struggled to prove to retailers that they have a winning system. That's been largely a chicken-and-egg problem: Both merchants and software developers have had trouble convincing consumers that loading a smartphone app is easier than whipping out a credit card. "Most people that have worked on this have started by focusing on creating a business model that was centered on their self-interest instead of focusing on the user experience," Cook said at the iPhone launch.
Apple isn't the first company to enter the field with a huge pile of cash, but Apple Pay, launched on Oct. 20, has two advantages. The first is design. Once their credit or debit cards are on file in the Passbook app that comes with an iPhone 6 or 6 Plus, shoppers don't need to key in their passcodes and call up an app to use the service. The iPhone loads a "pay with touch ID" message when its shortwave wireless transceiver is close enough to a card reader at a checkout counter. Then all it takes is a fingerprint.
The second advantage is Apple's partnership with credit card companies and banks that it says account for more than 80 percent of U.S. credit card purchases, allowing the iPhone maker to piggyback on their checkout systems. Apple will also collect fees from the credit issuers, according to three people familiar with the deals who weren't authorized to discuss them. In many ways, it's a new train that runs on old tracks.
That the banks and card companies would agree to such a deal suggests they're desperate for someone to figure out an efficient way to conduct mobile payments. "We want to be wherever our card members are," says Leslie Berland, who oversees digital partnerships at American Express. "Another critical piece is that we maintain our direct relationships with card members and merchants." The Apple system's reliance on the banks and card companies to process payments keeps the established players from getting cut out of transactions and the valuable data they produce. It's unclear whether banks will pass those fees on to account holders.
The seeds of Apple's strategy began to emerge a year ago, when it rolled out its fingerprint scanner on the iPhone 5S. Around the same time, Visa and MasterCard began collaborating on standards for mobile payment credentials using tokens—digital IDs that can be used to verify purchases without having to send customer account information to and from merchants. The card companies and banks began talking to Apple. "It was obvious that the Apple environment was going to be the launch partner," says Jim McCarthy, head of innovation at Visa. Apple's involvement "became a real rallying cry to get everyone moving in the right direction."
Apple Pay's short-range wireless signal, known as near-field communication, works on the same principle as the embedded microchips found in passports and other countries' plastic. The big catch for now is that the system requires card readers to be upgraded to comply with a new U.S. standard that shifts credit cards away from magnetic stripes and toward those embedded chips. The deadline for merchants to make the switch is October 2015; so far about 220,000 U.S. stores have done so, out of more than 10 million. (The upgrade costs $500 to $1,000 per checkout terminal, according to Javelin Strategy & Research.) McDonald's, Walgreens, Macy's, Subway, Petco, and Office Depot are all accepting Apple Pay. "As soon as we found out about this, we wanted to be part of it," says Troy Rice, Office Depot's head of retail operations. Customers are already shopping with smartphones in hand, he says, and the near-field tech is a natural extension of that behavior.
Not all retailers are convinced Apple's system is the winner—especially those that, like banks and card companies, want to collect user data. Apple Pay cuts merchants' apps from the transaction entirely. At Panera Bread, which is experimenting with taking to-go orders through its app and replacing registers with tablets, a customer using Apple Pay would still have to hand the cashier her rewards card or recite her phone number to get a loyalty discount. "Obviously that's not where we want to be," says Blaine Hurst, Panera's executive vice president for technology and transformation. "Why can't I just walk up to a cashier with my phone and all that information magically appears?"
Starbucks, which already processes 15 percent of its U.S. retail transactions through its mobile app, says it plans to set up a way for people to buy store credits using Apple Pay, but customers will still have to use the Starbucks app to cash them in. Starbucks app users "get all these benefits that we want to make sure won't go away," says spokeswoman Linda Mills. Wal-Mart Stores has said it's working on its own system, developed by Merchant Customer Exchange. Both companies declined to comment.
Apple also needs to sell consumers on Pay. Anindya Ghose, an IT and marketing professor at New York University, says the company should play up what he considers Apple Pay's greatest strength: the added security of its token system. Right after Apple's iPad introduction event on Oct. 16, Cook said the payment service's security and privacy, combined with its ease of use, will appeal to consumers. "It takes some time to roll out to banks and merchants, but I think there will be an incredible pull from customers who want it," he said. "At the end of the day, a merchant always does what their customers want."