Abadi Security Team Shows Him Boxed In by Iraq's Sectarian Feuds
Caroline Alexander and Zaid Sabah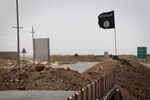 With his links to a Shiite militia accused of torturing Sunnis during Iraq's last descent into sectarian conflict, Mohammed Salem al-Ghabban wasn't the obvious pick for interior minister in a government meant to heal religious rifts.
His appointment last weekend after earlier candidates were rejected showed the limits of Prime Minister Haidar al-Abadi's power as he seeks to bridge sectarian divisions that helped propel Islamic State's onslaught in Iraq.
Two months into Abadi's premiership, political analysts say he's dealing with both the messy legacy of his predecessor and political realities: An entrenched Shiite dominance of the security forces, Iranian influence over decision making and rampant distrust between communities.
"Abadi doesn't have full control over what decisions he can and can't make, he has to work within the confines of party politics, sectarian politics and regional politics," said Ramzy Mardini, a Jordan-based non-resident fellow at the Atlantic Council research group. In analyzing Iraq, "too much emphasis is given to the power of individual personalities rather than the influence the environment has in shaping their behavior."
Ghabban belongs to the Badr Organization, a Shiite political group with ties to Iran whose armed wing is fighting alongside government forces against Islamic State. After the 2003 U.S.-led invasion of Iraq, Sunni leaders accused the Badr Brigade, then allied to the interior ministry, of kidnapping and killing Sunni clerics. Its chief, Hadi al-Ameri, has denied the charges.
Defense Chief
At the end of August, Ghabban led Iraqi forces to victory over Islamic State militants besieging Amerli, north of Baghdad, according to the newspaper of the Badr Organization, which has 23 seats in parliament as part of the main Shiite coalition. Ghabban was approved as interior minister by 197 votes to 63 in the assembly on Oct. 18.
Khalid al-Obeidi was named defense minister, ending a political deadlock that had lasted several weeks and completing the cabinet.
Obeidi has spoken to U.S. Defense Secretary Chuck Hagel, Pentagon spokesman Rear Admiral John Kirby said. "He was very clear about his desire to defeat ISIL," Kirby said of the Iraqi minister, using the abbreviation for one of Islamic State's former names.
Abadi's room for maneuver in filling the final two positions was limited, according to Sunni lawmaker Nada al-Juburi, not least by a tacit agreement whereby the Interior Ministry goes to a Shiite and the Defense Ministry to a Sunni.
2007 Violence
"Abadi entered a narrow tunnel," she said by phone. "He had no choice, we can't blame him."
In the previous government, both jobs were held by Prime Minister Nouri al-Maliki, part of an accumulation of power that angered marginalized Sunnis and Kurds.
While political leaders in Baghdad may be saying, publicly at least, that they can live with Ghabban, choosing him for a role that includes control of the police and and intelligence agencies, doesn't sit well with some Sunni residents of Baghdad.
"Appointing a militant as a minister of interior makes me worried," Nadeem al-Bayati, who lives in the city's Dora district, said by phone. "I'm afraid we're going back to the scenario of sectarianism of 2007."
Back then, Bayati said his 27-year-old sister was killed when a policeman fired at their car "for no reason other than us being Sunnis. The Shiite militias do not want any Sunni in Baghdad."
Sunni Support
Wathig al-Hashimi, an Iraqi political analyst, said Abadi, 62, had wanted to appoint independent interior and defense ministers but failed to get parliamentary approval.
"The situation will be more complicated with Ghabban, gaining the confidence of people now becomes very difficult for Abadi," he said.
As Islamic State routed Iraqi forces in the north and west this year, it found support among some Sunnis fed up with perceived Shiite abuses. At the same time, Kurdish leaders threatened to breakaway from Baghdad, hastening the removal of Maliki amid concerns Iraq may disintegrate along its ethnic and religious fault-lines.
Abadi, a Shiite, has vowed to end financial disputes between Baghdad and the Kurds. His suggestion to incorporate Sunni militias in a National Guard shows he understands that reforming security forces is key to countering Islamic State, said Nicholas Wade, who covers the Middle East at London-based political risk consultancy Menas Associates.
Tribes' Demands
"In terms of personality and approach, Abadi is more conciliatory than Maliki but the bigger picture of how to engage the Sunni community goes far beyond cosmetic tinkering," Wade said. "It means coming to grips with very difficult issues, including detainees, many of whom are Sunnis, the political exclusion law and questions of local autonomy."
Sunni tribal chiefs have sought more regional autonomy, a greater presence in the security forces, and the repeal of the exclusion law which prohibits officials from the era of Saddam Hussein from public office, most of whom were Sunnis.
Fueling a sense of urgency, Islamic State is making gains west of Baghdad, which has seen a spike in suicide bombings targeting Shiites. The attacks risk perpetuating a cycle of violence similar to that which raged following the 2003 U.S.-led invasion.
Iran Approval
After the cabinet was completed last weekend, Abadi met with Grand Ayatollah Ali al-Sistani in Najaf, a visit which symbolized the top Shiite cleric's approval of the new premier. He then traveled to Iran, where he met with President Hassan Rouhani and Supreme Leader Ali Khamenei. The religious and political backing is seen as key to his government's success.
"Iran has the upper hand in politics and is able to make any Iraqi government fail," Hamed al-Mutlaq, a Sunni lawmaker, said by phone. "He went there to explain that while his government will work in the interests of the Iraqi people, it isn't against Iran."
Politicians representing the country's minorities said they're willing to give Abadi the benefit of the doubt for now.
"We'll evaluate the situation in three months," Mahmoud Othman, a senior Kurdish politician, said by phone.
"Maliki left a heavy legacy -- the miserable security situation and corruption across all state institutions," said Mutlaq. "We are cooperating and we are trying to help Abadi succeed."
Before it's here, it's on the Bloomberg Terminal.
LEARN MORE